---
BMX Racing News - Wednesday - December 2, 2015

---
JORIS DAUDET WINS THE USA BMX #1 PRO TITLE
Joris Daudet wins the USA BMX Grands AA Pro Main event and the 2015 #1 Pro Title!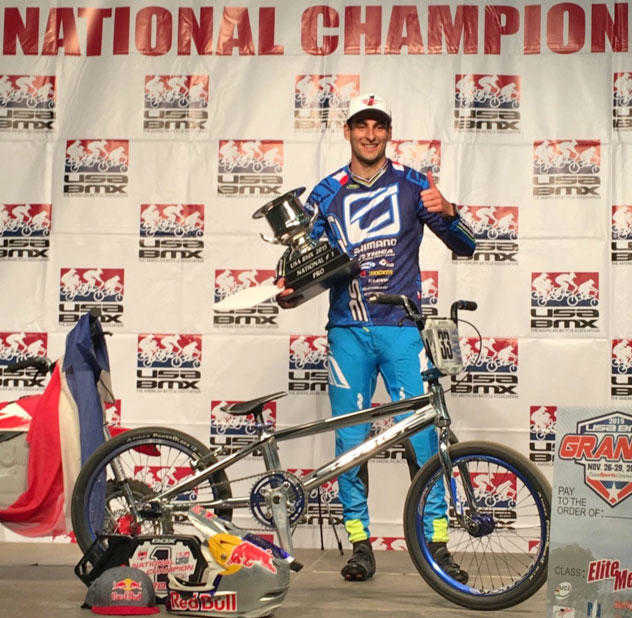 After 9 months of an epic USA BMX Pro race season, the 2015 USA BMX Pro title would come down to 3 riders going for the overall title in tonight's final event of the year.

Joris Daudet, Connor Fields, and Sam Willoughby all came into todays final race in a virtual points tie, with the title to be decided by the result of this last event.

All 3 riders made their way through the qualifiers during the day program of the #GreatestRaceOnEarth, and the biggest race on Earth. The riders would then come back for the big show at night, and what a race it was!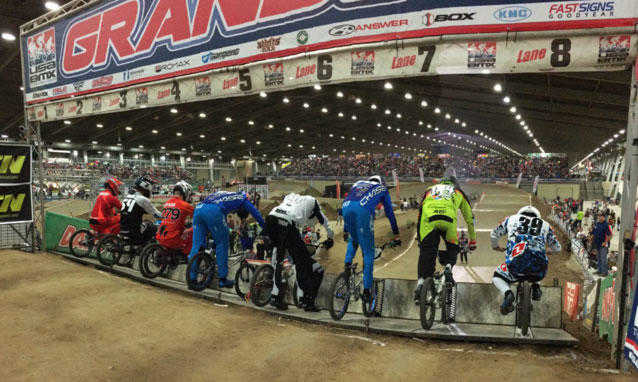 Things kicked off with the Semi Finals, where Connor and Sam would meet up, but placing 1st and 2nd, they moved into the main event.

In Semi #2, it was Joris and Anthony Dean that transferred info the finals as well.

The overall title would come down to how the 3 riders would end up for the night, with the best placing rider to take the title.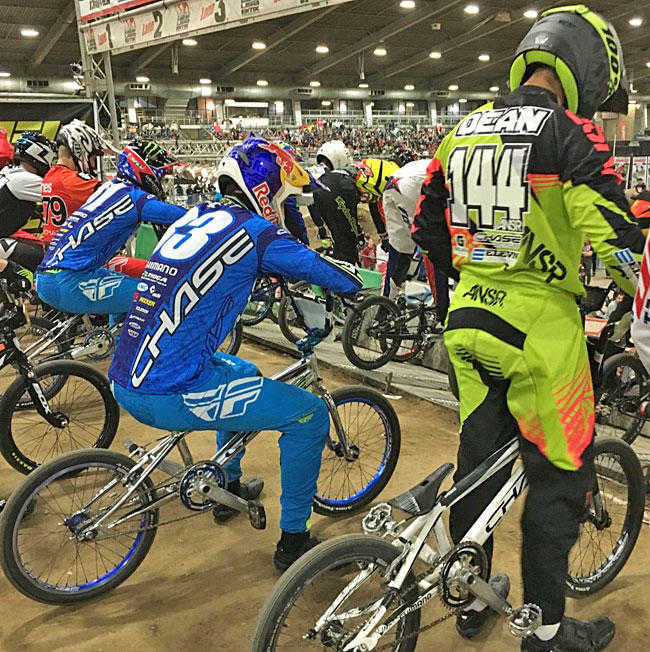 In Main #1, Joris grabbed the hole shot, and took the lead over teammate Connor and Sam was in tow in 3rd. The 3 would ride the entire track in that position, and finish 1-2-3. Main #2, was almost a carbon copy, as the 3 riders in the title chase would once again go 1-3 with Joris, Connor, and Sam.

In the Final main event, it was once again Joris with the best start, and now Sam was in 2nd.

Joris would ride into the record books with 3 first place finishes and becoming the 2nd French rider in USA BMX History to take home the overall #1 Pro title, with Christophe Leveque being the other.

Connor would finish 3rd overall for the night and the season and Anthony Dean was 4th for the night and year as well.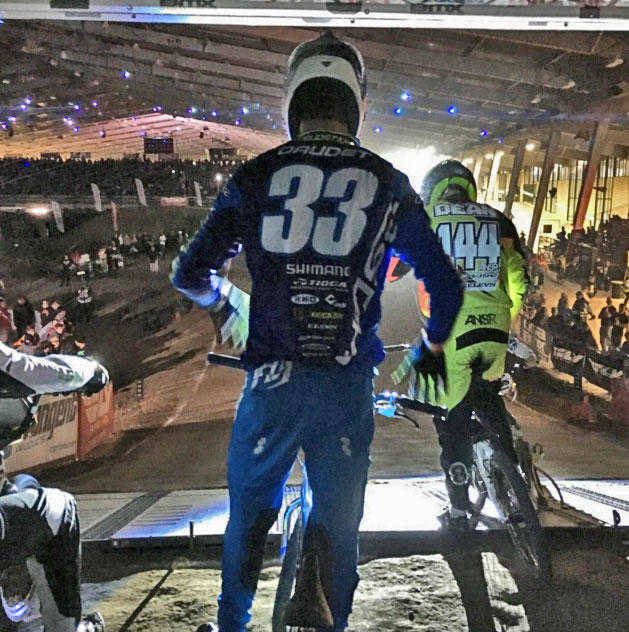 This would cap off the greatest season ever for the Chase BMX team, with Joris taking the title, Connor finishing 3rd, and Anthony 4th overall for the season.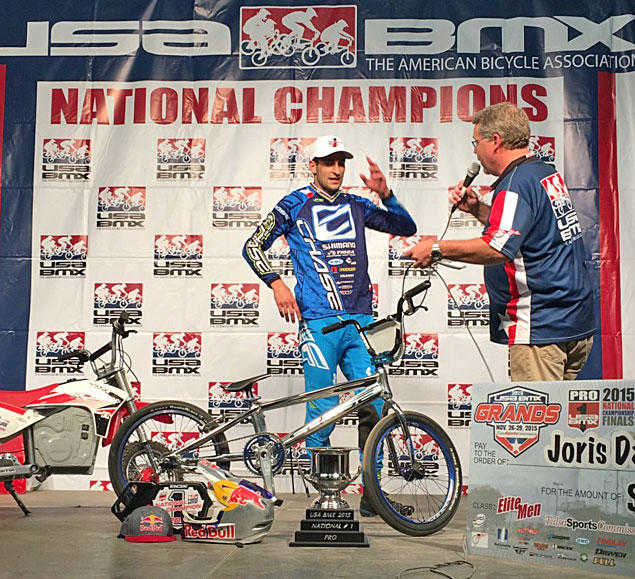 Chase BMX Would like to congratulate Joris, Connor, and Anthony for a great season, as well as to Sam Willoughby. Thanks also goes out to all the fans and to our partners and sponsors of the Chase BMX race team!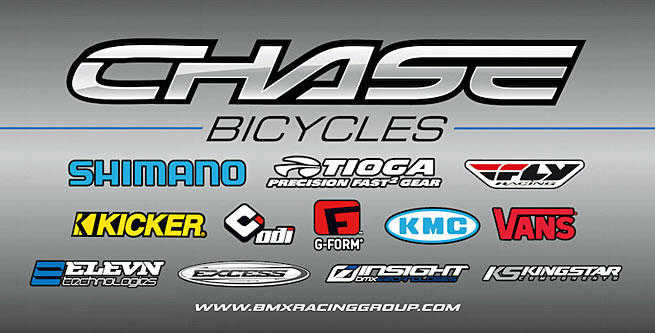 ---
BMX Racing News - usabmx Grands Weekend - November 27-29, 2015

---
---
BMX Racing News - Monday/Tuesday - November 23-24, 2015

---
CHECK OUT BIG DADDY ON HIS VENDETTA!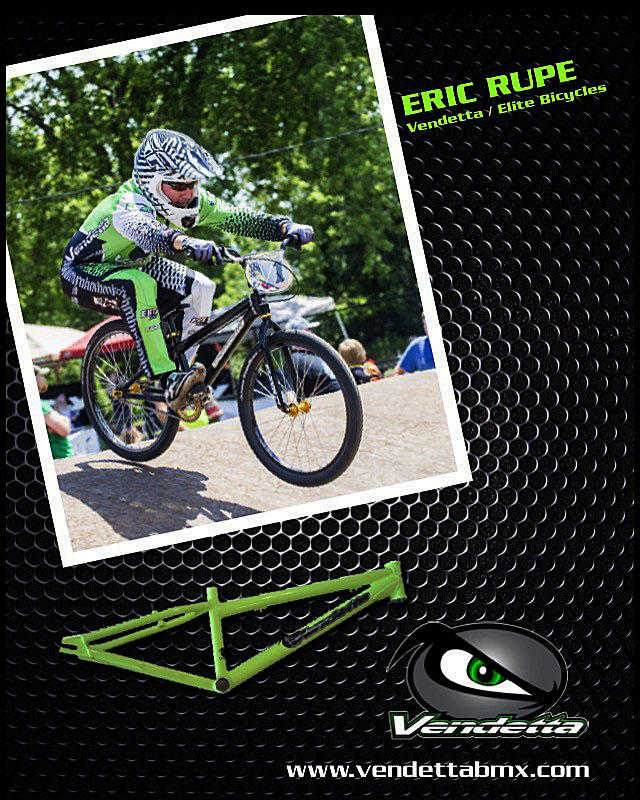 What??????? It's no big deal to see some old '50 Something' pedallin' down the street on his bike!
Nope, not true, carbon breath! That's none other than Eric "Big Daddy" Rupe on his sweet new Vendetta cruiser, makin' haste down the track in his sweet team colors, in a full page ad in the USABMX Pull magazine! AWESOME!
Of course, Eric is no stranger to full page ads and cover shots in BMX mags thru his 41 years of racing BMX. (Including 33 years as one of the most successful BMX Racing pros of all time!) 'Big Daddy' has done it all and seen it all in his career but is psyched by the support of his sponsorship at Vendetta and them using him as an advertising frontpiece.
Congrats Eric Rupe and Vendetta, that's one choice piece of BMX racing advertising!
UGLY KID CLOTHING LAUNCHES NEW PRODUCT AND WEB SITE!
BMXer, Skate Park aficionado and action sports clothing magnate, Rocky Rupe (Speaking of Big Daddy!) is all on the gas about his new Ugly Kid Clothing line. Ugly Kid has a whole bunch of hot new stuff on the way and the count down is (Literally) on uglykidclothing.com. You KNOW you want to check things out, so why don't you go over and check it all out!

10 years ago at the forefront of the "anti-bullying" movement, Ugly Kid Clothing was created by a few friends in high school. We were not in a band or a part of a sports team, just a few individuals that wanted to create something of our own. The initial goal was to move away from the "Revolt/ Rise against" message that most companies appeared to be sending, and push our own "Rise Above/ Do Something Awesome for Someone" message.

From that moment on, we were consumed with the "Ugly Kid" lifestyle brand. We knew that we had created something that the world could relate to and everyone would want to be a part of it! We wanted to spread the word in any way that we could. Stickers, hats, shirts, pretty much anything that we could put the name on we did. The idea of pushing positivity and forward progress spread like wildfire. Finally we had something that we could be a part of, and everyone wanted to be a part of it with us.
---

---
Check Out UK BMX History!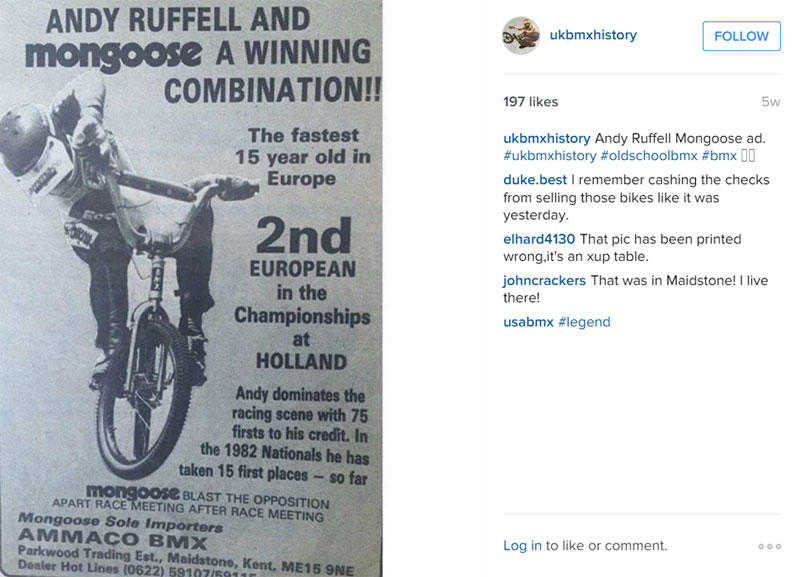 Yeah, BMX History at it's finest! Maybe you have never had a chance to stop by UKBMXHISTORY.com or ukbmxhistory on Instagram, but it's for sure worth the visit, cuz the staff at those two BMX Historical outlets are ON IT with tons of historical and hysterical BMX Radness!

The U.K. BMX scene has been very influential over the years with many of the greats of our sport coming from the island kingdom. If you check out UKBMXHISTORY, you'll run across cool stuff about the Legends of UK BMX, such as Jamie Staff, Stephen Murray, Andy Ruffell, Neal Wood, Dale Holmes, Dylan Clayton, Tim March, Alan Woods, Geth Shooter, Craig Schofield, Anthony Revell, David Maw, Sarah Jane Nichols, Tom Lynch, Wayne & Gary Llewellyn and many more. AND, it's pretty cool that a lot of these BMX Legends visit UKBMXHISTORY and comment about the Good Old Days and what's going on with BMX these days.

12,000+ Instagram followers can't be wrong, UKBMXHISTORY is on to something. The sites have access to a TON of ancient BMX magazines (particularly long ago UK ones) since the early 80s and they post old race and freestyle pics and many great shots they happen to come across.

The Instagram page has really taken off with over 12,000 followers in less than a year. It's obvious that the UKBMXHISTORY staff are all BMX history nerds like so many of us in the BMX community and love the history that helped to build the sport of BMX racing to what it is today.

The website is a bit more racing but on Instagram they also post some tasty freestyle and back in the day BMX pics mainly from the UK BMX scene but it's awesome that they do post a lot of US history as well. When they dig up more time, the plan is to document more of British race history for the site.

Drop by www.UKBMXHISTORY.com and UKBMXHISTORY on Instagram and check em out, it's a trip down memory lane that's worth the effort!

Long Live BMX!
---
BMX Racing News - Wednesday - November 18, 2015

---
Yess BMX France picks up Romain Riccardi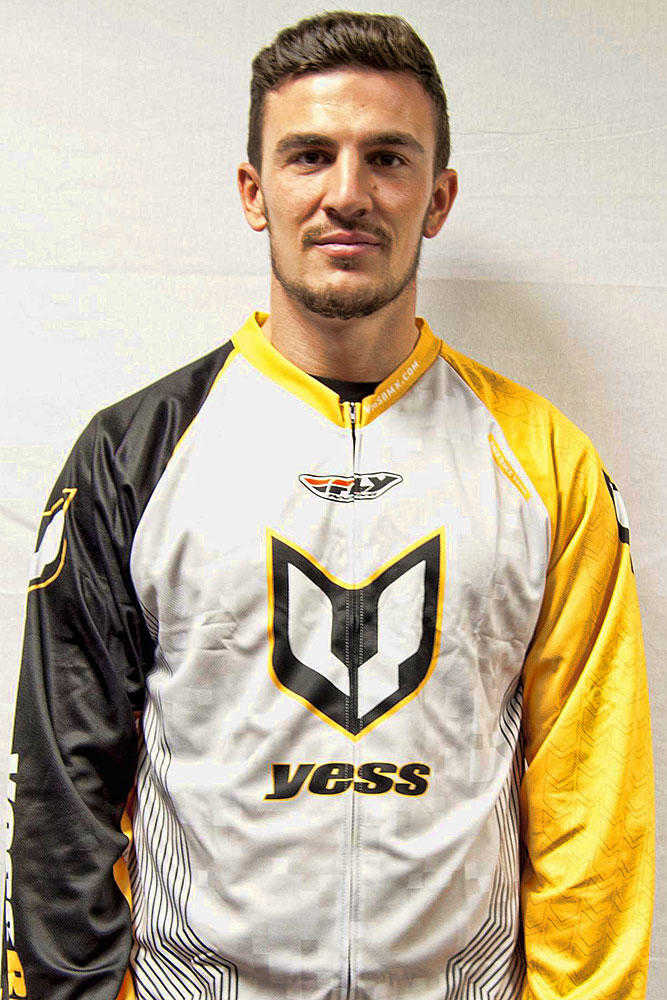 Yess BMX France is proud to announce the addition of BMX racer Romain Riccardi, to the Yess BMX team.

Romain Riccardi current Italian Champ will ride all the UCI World cup event, Euro races and French Championship on the new Yess Elite Frame and Pride Racing parts products.

Romain will help the Canadian brand on the new project. Romain commented: "I have decided to join Yess BMX after 6 years on GT Bicycles. I can't thank enough GT for the help during the last 6 years. I will chase my Olympic qualification on a Yess Frame" He add : "My first ride on the Yess frame is incredible, on the other hand I like the brand mentality ! It's one of the last brand who produce bike by hand in Canada and the quality is perceptible on the track !"

Yess BMX manager Renny Husada had to say "We are excited to have Italian Champion represent us in Europe as well as represent us in the Worlds as he has proven himself to a serious contender in the Elite class. We look forward to watching him race our newest frame for 2016"

The current Yess French team is composed of Axel and Karl Le Nagard. A new French co factory team will join the factory team this year.
---
BMX Racing News - weekend update - November 14, 2015

---
french BMX remains standing!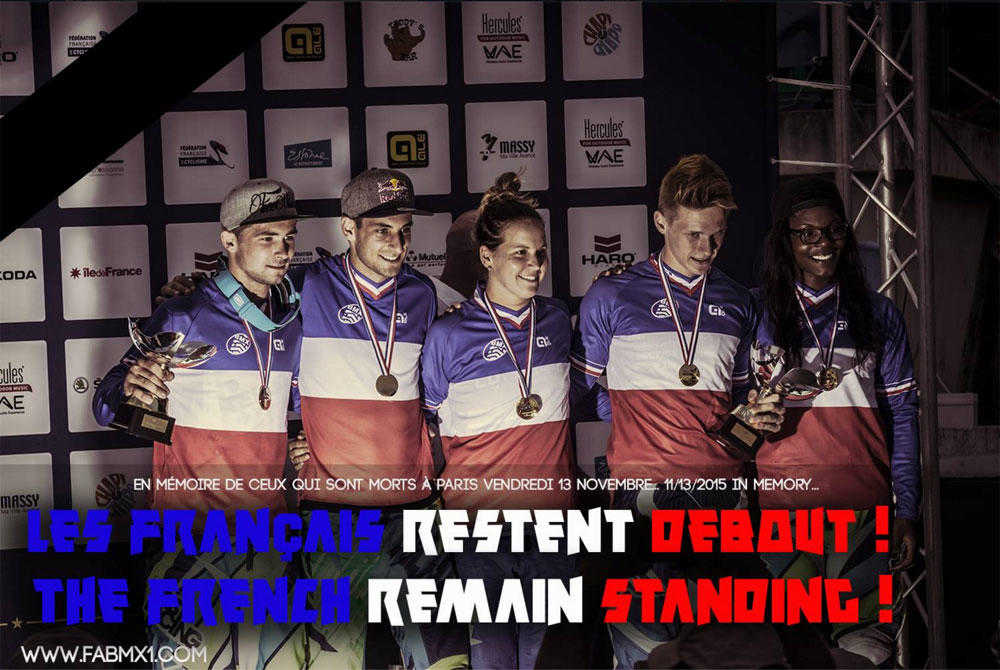 In honor of those who have died in the terrible attacks on the country of France, FABMX1.COM shares this show of support and message of hope to the world from those who love BMX and what it stands for in one of the strongest BMX countries in the world!

Here at BMX Mania Dot Com, we send our prayers and strength from www.bmxmania.com to all of the MANY die hard French BMXers who we know love freedom, love what BMX stands for and wants the BEST for people everywhere!

The message from FABMX1.COM is.....

"On this terrible day for France, after the attacks recently in Paris, which left more than 120 dead, the staff at FABMX1.COM unites in grief and thinks of the strong families and those innocents who have suffered pain and hardship from religious fanatics who believe in unspeakable human stupidity.

France remains standing, the BMX world remains strong and our best representatives will prove it. Vive la France and BMX!"
---
BMX Racing News - thursday - November 12, 2015
---
EliteTrax Announces South Lake Tahoe BMX & Pump Tracks Grand Opening
The radsters over at EliteTrax are pretty excited about the Grand Opening of one of their latest projects, Lake Tahoe BMX & Pump Tracks at Bijou Bike Park in South Lake Tahoe, California.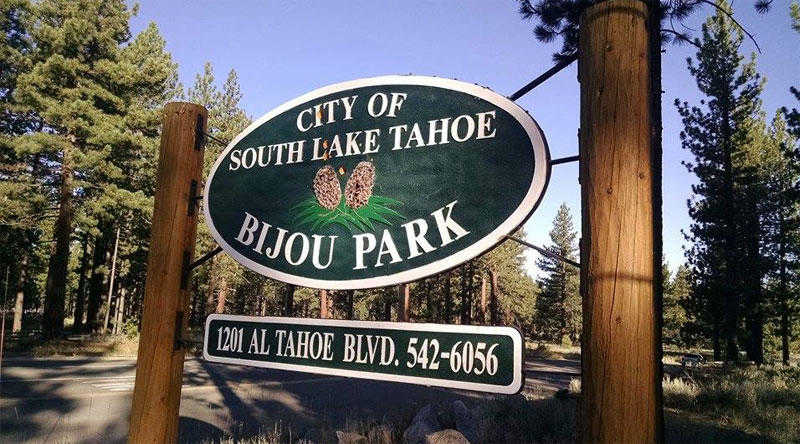 The track is located in the Bijou Bike Park in South Lake Tahoe, California.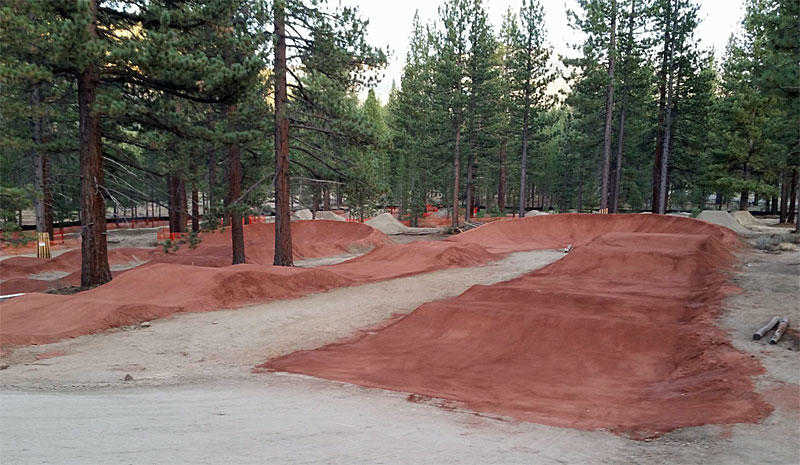 BMX Radness, EliteTrax Style among some awesome Tahoe nature!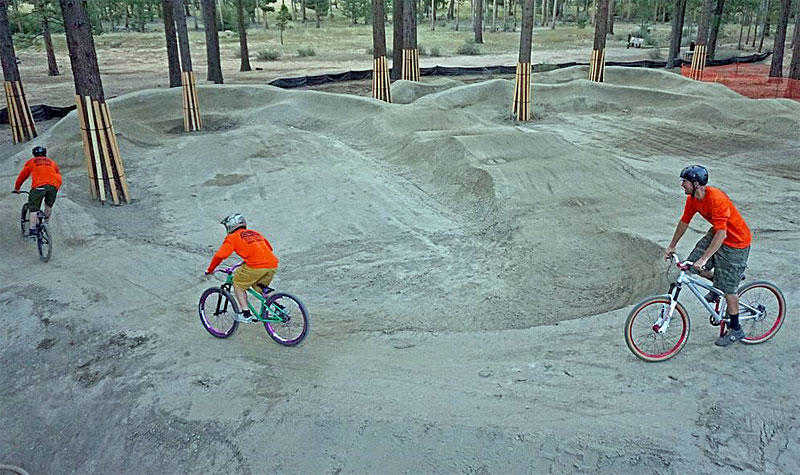 The Advanced Pump Track at Bijou Bike Park.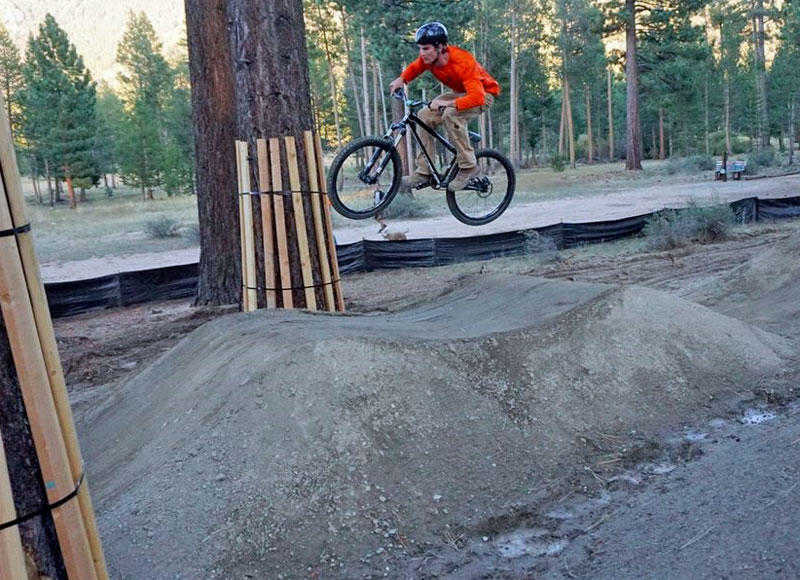 Jumpin' the doubles on the Pump Track.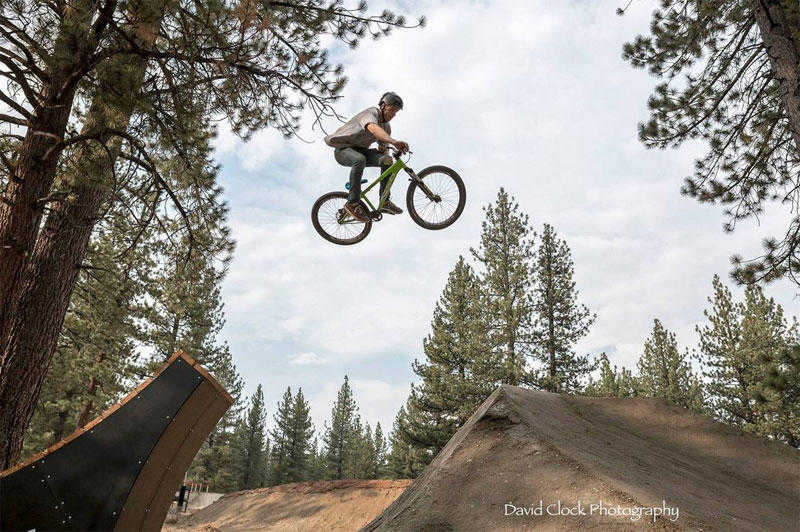 Big Air in South Lake Tahoe! - David Clock Photography
And the folks around Lake Tahoe are getting excited as well. Check out this video report from the construction site in July......Mountain Resort Television Tahoe
For More Info: bijoubikepark.org / South Lake Tahoe BMX / EliteTrax.com
ELITETRAX IS THE PREFERRED TRACK CONSTRUCTION COMPANY OF THE INTERNATIONAL CYCLING UNION (UCI) - In the late 1990s, many of the top riders felt they had achieved all they could in BMX Racing after repeatedly competing on the same tracks with the same flat start, roller, & table elements. Many elite riders even left BMX for other cycling sports in search of a new challenge.
Tom Ritzenthaler, a former BMX rider already an experienced track builder, knew changes were needed to revitalize the sport & inspire a new generation of athletes & fans. Pulling from his extensive knowledge of BMX tracks, Tom teamed up with UCI (Union Cycliste Internationale) and later founded EliteTrax and began to design tracks with innovative, never-before-seen elements that challenged riders and excited the entire industry.
Thus began the revolution of BMX Racing and the emergence of the Supercross format. With Tom & EliteTrax at the helm of the track revolution, BMX Supercross is now a global phenomenon in the cycling world with several hundreds of professional riders competing in front of massive crowds.
EliteTrax continues to lead the revolution it created by shaping & elevating the sport with the highest quality & raddest tracks in the world.
EliteTrax Effect on BMX Supercross racing - In early 2000, Tom Ritz and UCI pioneered the downhill format, then followed with the modern eight meter start ramp and later on with ProGate, the development of the random start gate.
EliteTrax helped propel BMX SX to become a recognized Olympic sport. In 2008, EliteTrax designed and built the track for the Olympic Games in Beijing, China, the first introduction of BMX SX to the Olympics and to a whole world of new fans.
Since the 2008 BMX SX Olympic debut, Tom and the Crew have only worked harder: EliteTrax designed and built the first ever BMX Supercross Combo track at the 2010 UCI BMX World Championships,, worked with Red Bull in creating most innovative racing track ever with the Red Bull R.Evolution track, designed and built the standard BMX track for the 2014 Youth Olympic Games in China, designed and built the BMX track for the 2015 Pan-Am Games and is leading the design for the 2016 Rio Olympic Games BMX SX track.

---
BMX Racing News - Monday - November 9, 2015
Crupi.....Racing BMX Since 1982!
---
Rock out, Have fun and dial in your BMX skills with Rhythm Rocks!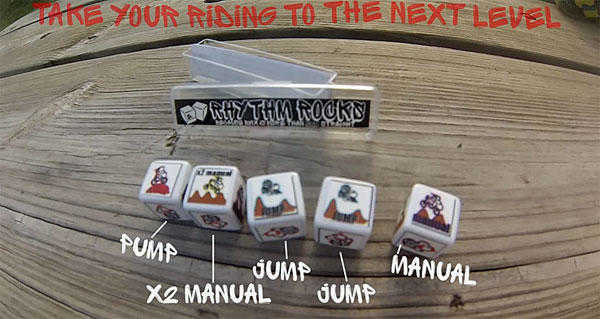 Check out this great idea from BMX Pro, Josh Smith! 'Rhythm Rocks' looks to be a fun way to polish your BMX Racing Skills, check it out!
From BMX Pro, Josh Smith - BMX RHYTHM ROCKS is a "skills training" tool that can help you increase your track speed and have more fun on your bike!
In response to the current "training trend" that BMX racers have taken to I have realized how much we often ignore the best part of BMX.
We all got into racing BMX not just because we wanted to go fast down the first straight, but because we love to ride.
The BMX RHYTHM ROCKS dice set allows you to dial in your track skills that will let you have more fun on the bike, push your limits, help you accomplish goals, and ultimately, win races!
So whether you're the weekend enthusiast or the diehard title contender, grab a set of BMX RHYTHM ROCKS and take your racing/riding to the next level!
BMX RHYTHM ROCKS are sold for $10 and can be purchased directly from Josh Smith in person (USA BMX Grands as well!), or through mail-order by sending $13 ($10 + $3 shipping) via PAYPAL to projectthreeclothing@yahoo.com. Make sure to include your address in the details section when ordering!
Check out this promo video to get an inside look at what BMX RHYTHM ROCKS are all about!
Josh Smith ..... Email: bmxrhythmrocks@yahoo.com
---
BMX Racing News - Tuesday/Wednesday - November 3/4, 2015
---
BMX Pro Podcast With Maris Strombergs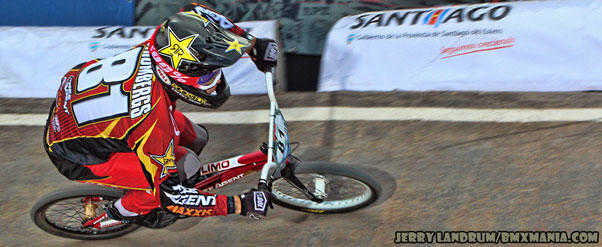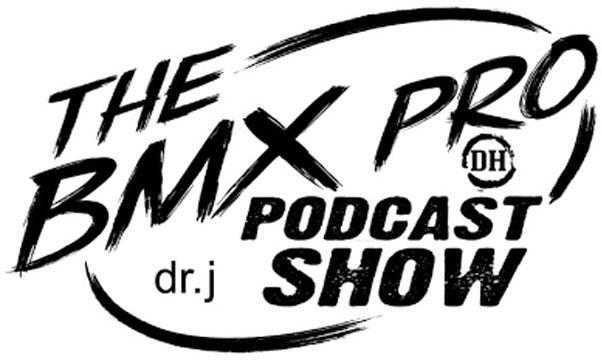 Check out the BMX Pro Podcast Show – episode 3 with Podcast Host, Dale Holmes, Dr. Jason Richardson and guest, Two Time Olympic BMX Champion, Maris Strombergs.

Join Dale and Dr. J as they check in with 'The Machine' about his BMX History, training concepts, his two Olympic Gold Medals and a lot of other awesome BMX conversation.

Check it out, HERE at DaleHolmes.com!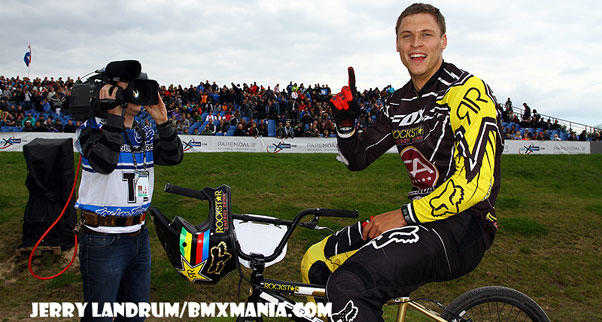 ---
BMX Racing News - Wednesday/thursday - October 28/29, 2015

---
On Pace with BMX Mania Team Member, Shannon Taylor
BMX Mania Team Member, Shannon Taylor has released a cool video detailing his day to day training, BMXing and 'down home' summer at his home in Warsaw, Indiana.

Shannon's currently attending Marian University where he's majoring in some serious studies and some World Class BMX and MTB racing for the Marian Knights, one of the premier university cycling programs in the world.

We're quite proud of Shannon at BMX Mania, he's one of the most dedicated BMXers that we've ever come across and a great team member.....Check out his 'On Pace With Shannon' vid, it's pretty sweet!

---
Cascade Velo to Distribute TRUTH BMX Frames and More
October 14, 2015, Bend, Oregon: Cascade Velo and Mechanicsville, MD based TRUTH BMX Products form a partnership to distribute Truth BMX parts and frames.
"I am excited to be able to offer Truth BMX Products to Cascade Velo's dealer network." Cascade Velo owner, Mike Albright said, "I really like what Eric and Tony Spears have going on at Truth and look forward to phasing in more Truth BMX Products like handlebars, stems and their new 4013 cro-mo frames."
To start, Cascade Velo will be offering the Aluminum Main Event frames in mini, junior, expert, pro, pro xl, pro xxl, junior 24", expert 24", pro 24", pro xl 24" sizes. Offered colors include black, blue, red, white, yellow, neon pink, neon green and polished. Custom colors are also available.

Cascade Velo is also accepting resumes for 2016 team co-sponsorship deals! Teams must be supported by an independent bike dealer (bike shop) to be eligible.
Team Managers; send all inquiries to sales@cascadevelo.com
For more information check out:
www.truthbmxproducts.com
www.cascadevelo.com
---
BMX Racing News - Monday - October 26, 2015
Chase BMX Race Report - USA BMX North American SX Race - Oldsmar, Florida
Connor and Joris are on the podium both days once again,
with Connor winning on Saturday!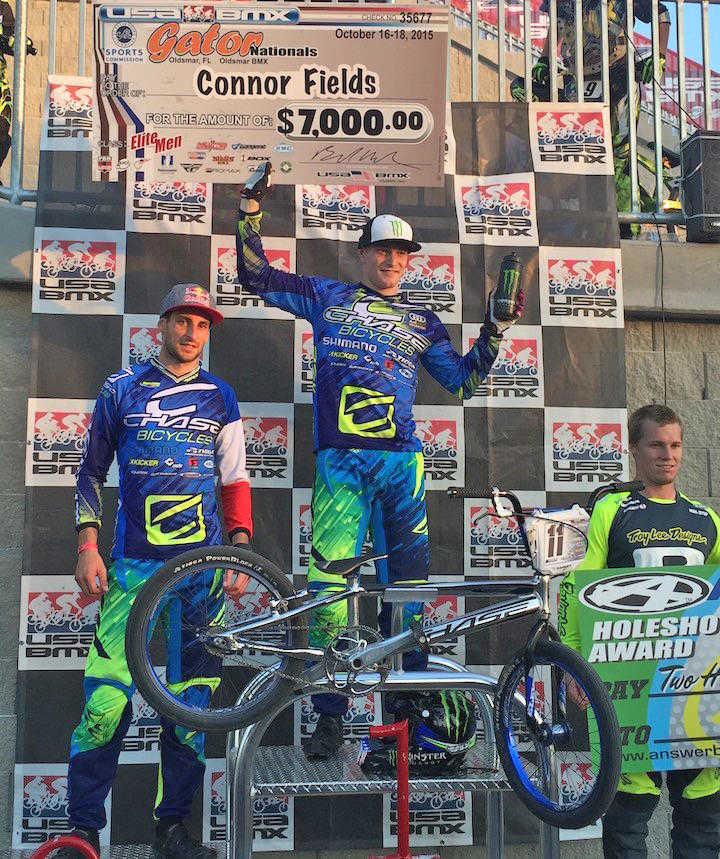 The 2015 USA BMX Pro series is winding down, as the series recently moved to Oldsmar, Florida.

This would be huge weekend for the BMX Pros, as this was not only the last stop of the Pro Tour before the USA BMX Grand Nationals, but this would be one of the USA BMX North American SX events, where not only the newly rebuilt Oldsmar track would be huge, but the prize money would be giant and the chance to gain some more points towards the overall 2015 USA BMX Pro title would be priceless.

Joris and Connor currently sit 1 & 2 in the overall points, so if they want to put any separation between each other, or 3rd place in the points Sam Willoughby, they would need to do it this weekend.
The newly rebuilt Oldsmar BMX track had the riders excited to race on the newest Supercross track built in the USA and battle it out for the huge Pro prize purse.
On Friday night, Connor and Joris would race the opening day of the 2 day event for the final stop on the USA BMX pro tour, before the Grands weekend.

Arriving to the Oldsmar track, both riders were excited about the new facility and were looking forward to another great weekend of BMX racing and hoping to make their way onto the podium each day.

On Friday, they were both able to achieve that. Both riders made their way easily through the qualifiers and into the Friday night main event.

When the gate dropped, both had a good start, but were slightly edged out by Sylvan Andre, as he took the holeshot. Connor and Joris would battle it out, as Connor passed Joris on the 2nd straightway, and pulled up to Sylvan, but was unable to pass him for the win.

Connor would finish 2nd with Joris just behind in 3rd, for another great finish by the Chase BMX Pro team riders on the USA tour!
On Saturday, the guys once again rode strong all day. Once again they both made their way into the main event.

As the gate dropped on Saturday night, it was Sam Willoughby with the lead, with Joris and Connor all over him. Down the 2nd straightaway, Joris made the pass on Sam and they entered the 2nd turn and drifted slightly high.

This was just enough for Connor to try to make the move on the inside, and he was able to pass both riders, taking over the lead.

Joris would pressure Connor the rest of the lap, but Connor would hold off Joris and take the win! That makes 7 wins for both Connor and Joris this season, and making Chase the most dominate Pro team on the USA BMX tour in 2015!

What a great weekend for the Chase BMX Pro's as they now go into the Grands, with both looking at winning their first USA BMX #1 Pro title.

It will all come down to the Saturday night Pro main event at the Grands, and we are so excited to see both of the Chase BMX pros going for this great title!
The riders now have a little over a month to prepare for the USA BMX Grand Nationals, where both Joris and Connor will be up for the USA BMX #1 Pro title.

Sam Willoughby will be the rider that wants to upset both of them for the overall title, so it will be an exciting weekend of BMX racing, come Thanksgiving time in Tulsa!
---
BMX Racing News - WEekend update - October 16-18, 2015
Sunday Evening Update: UH OH! Internet connection troubles! It was a tough weekend for BMX Mania online, but we've got our trubs sorted out and are back online. We'll be posting the weekend's photos early this week, so please check back. In the meantime, we've got Friday's BMX Race Action Photos posted and dialed in, so if you need some good stuff, you can visit the Oldsmar Race Report Page from USABMX Oldsmar, by clicking here!
---
alise post & sylvain André
win big in Oldsmar!

| | |
| --- | --- |
| ELITE MEN PODIUM | ELITE WOMEN PODIUM |
| | |
| 1-Sylvain Andre (FRA) | 1-Alise Post (USA) |
| 2-Connor Fields (USA) | 2-Mariana Pajon (COL) |
| 3-Joris Daudet (FRA) | 3-Melinda McLeod (AUS) |
BMX Mania's On The Road To Oldsmar!!!!!

Yes sir! It's the Series Ending race in the USABMX Supercross Series and the destination is the Brand New AWESOME Supercross track in Oldsmar, Florida!

Oldsmar has been the destination for lots of USABMX nationals but the City of Oldsmar and the Florida Sport Commission are all excited about the hot new track that has been totally renovated and includes BOTH a 5 meter amateur AND 8 meter elite starting hill!

Keep it tuned here over the weekend for some hot BMX Race Action photos from the USABMX Gator Nationals in Oldsmar, Florida!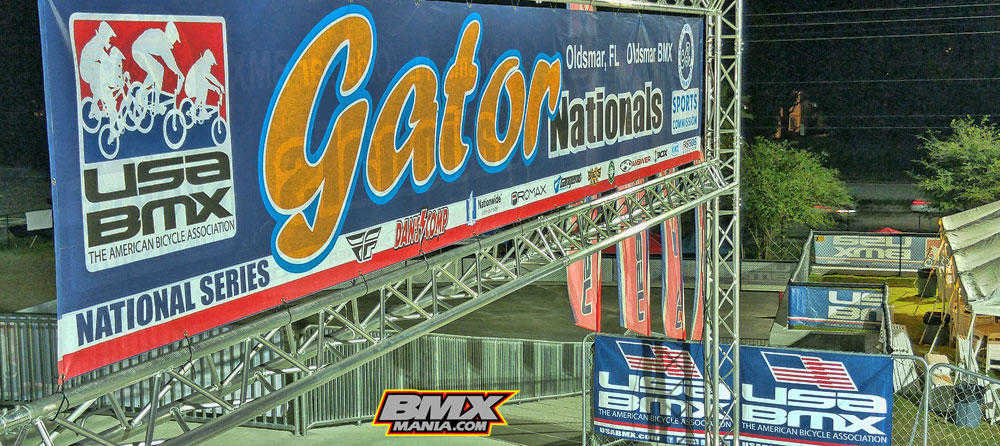 ---
BMX Racing News - WEDNESDAY/Thursday - October 14-15, 2015
Speedco Velox carbon frame Photos Unleashed!

The speedco bicycles website was recently launched and they've got some studio photographs of their new Velox carbon frame slated for a December release.

The Velox is the lightest frame on the market of its size, weighing in at 2.65oz in the Pro XL size, and will be available in 3 pro sizes as well as 3 sizes for the smaller rider.

Check out the website to learn more www.speedcobicycles.com
---
BMX Racing News - Monday/Tuesday - October 12, 2015
LOCAL RACE ACTION!
BMX MANIA'S HOME TRACK END OF THE SEASON PHOTO BLOWOUT!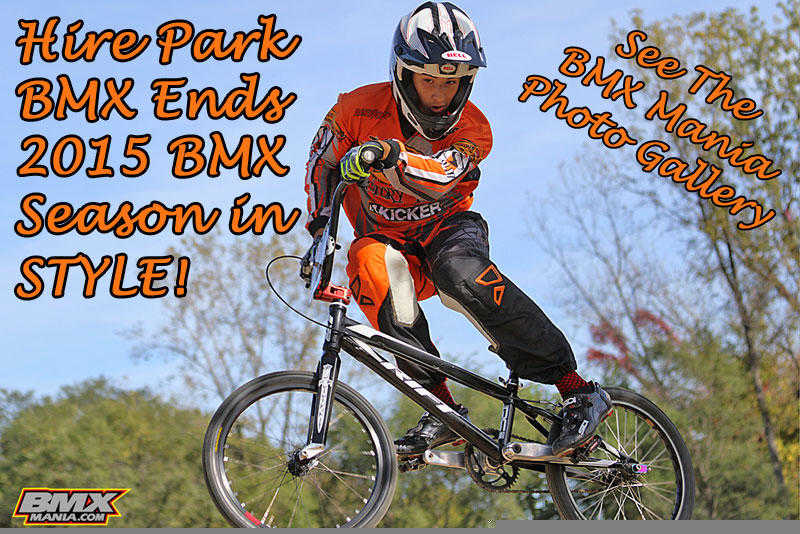 Strange Motion/Kicker BMX Team 'High Flyer', Caden Bowers, Hire Park Local Hero, throws down a little style to celebrate the end of the 2015 BMX Season at the track's end of the season 'Chili Cook-off' race. BMX Mania has been involved with BMXing at Hire Park for 30 years, and so we trucked on over to the track on Saturday to check things out and snap a few action shots at the race. Check out the fun, Monday afternoon as hit up some BMX Mania Local Action!!!!!
---
BMX Racing News - thursday/friday - October 8-9, 2015
Sidi Stands up for Breast Cancer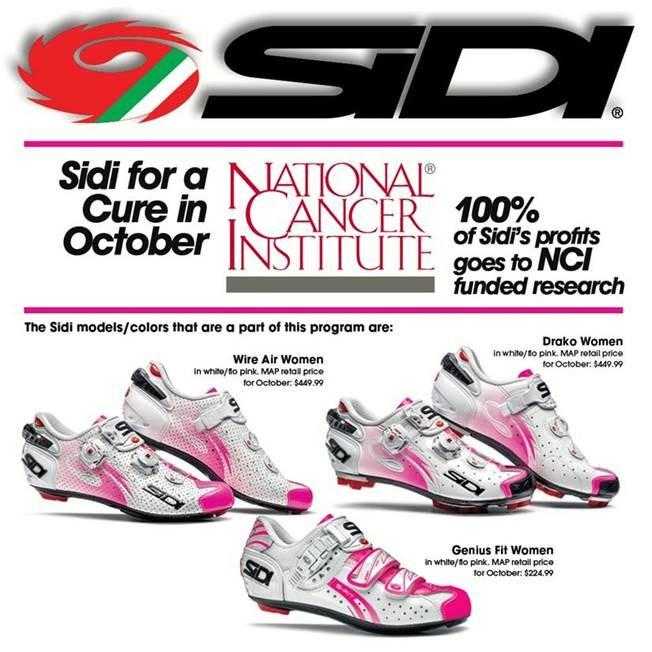 Breast cancer is something that invades many peoples lives at some time or another. October being Breast Cancer Awareness Month, Ciclista America thought we should participate. That said, we think that most of us are very "aware" of breast cancer, so Ciclista America's direction, and contribution, will focus more on supporting a cure.

The National Cancer Institute (NCI) is our Federal government's agency that helps coordinate the training that physicians receive to learn new techniques and treatments and more significantly conducts research towards a cure. It also plays a role in identifying fraudulent research organizations. The NCI already have their basic operating and administrative costs covered by an appropriation from Congress, therefore donations to the NCI are used entirely to fund additional research towards a cure.

Ciclista America's program will allow retailers to advertise and promote select models/colors of the Sidi's ladies shoe line at 10% off retail for the month of October only. Ciclista America will then donate 100% of our profits from the sale of these shoes in October to the NCI.

The Sidi models/colors that are a part of this program are:

Wire Air Women in white/flo pink. New for 2016 Retail price for October: $449.99

Genius Fit Women in white/flo pink. Retail price for October: $224.99

Drako Women in white/flo pink. New for 2016 Retail price for October: $449.
---
BMX Racing News - Tuesday/Wednesday - October 6-7, 2015
TICKETS FOR 2016 UCI BMX SUPERCROSS WORLD CUP MANCHESTER GO ON SALE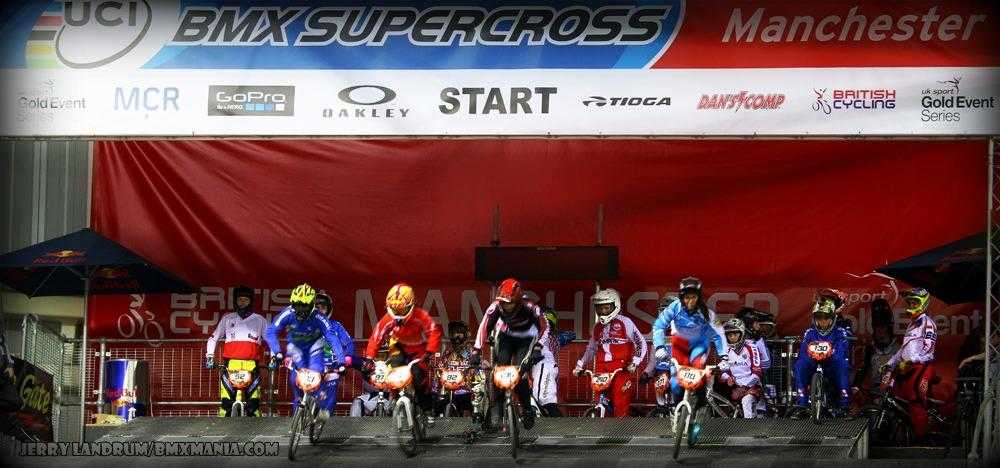 Tickets for the 2016 UCI BMX Supercross World Cup in Manchester will go on sale exclusively to British Cycling members with 20% discount today (Tuesday 6 October).

The UCI BMX Supercross World Cup is returning to Manchester's National Cycling Centre from 9-10 April 2016 when Great Britain's 2015 world cup series champion, Liam Phillips, will be looking for his fourth consecutive win at the event.

Racing will begin on Saturday 9 April with three rounds of qualification motos for Sunday's supercross finals before the top ranked 16 men and 8 women in the world race against the clock in the time trials. The action will continue on Sunday 10 April when Saturday's qualifiers will meet the world's top 64 men and 32 women in the supercross racing, each battling for a place in the elite finals. An autograph session will open both days of the competition, offering fans the chance to meet with some of the best athletes in the sport.

The Manchester round is the second event in a five-stop global series which will also see rounds held in Santiago del Estero (Argentina), Papendal (Netherlands), Rock Hill, South Carolina (USA) and Sarasota, Florida (USA). The competition is set to be fierce as the best riders on the planet battle for series points as well as some of the last qualification points on offer for the 2016 Rio Olympic Games.

How to get tickets ..... Tickets will be available exclusively to British Cycling members with 20% off from 2pm on Tuesday 6 October until 11:58pm on Sunday 11 October.

Anyone wishing to take advantage of this and other exclusive ticket offers can join British Cycling from just £20 during this period.

Tickets will go on general sale on Tuesday 20 October via Ticketmaster.

More information about the event, including the racing schedule and full list of ticket prices, can be found on the event website www.bmxsuperx.com.

---
BMX Racing News - weekend update - October 2-4, 2015
2016 Chase Bicycles Edge & element range announced and available now!
Chase Bicycles is proud to announce the launch of the 2016 Edge complete BMX Race bikes.

Pete Dylewski gives you a brief overview of the new bikes for the line.

For the full info on the Edge and Element Complete bikes, please check out www.ChaseBicycles.com

Chase Bicycles is proud to launch the 2016 line of Element complete BMX Race bikes.

Pete Dylewski gives you a brief overview of the new bikes for the 2016 line.

For full info on the line, check out www.ChaseBicycles.com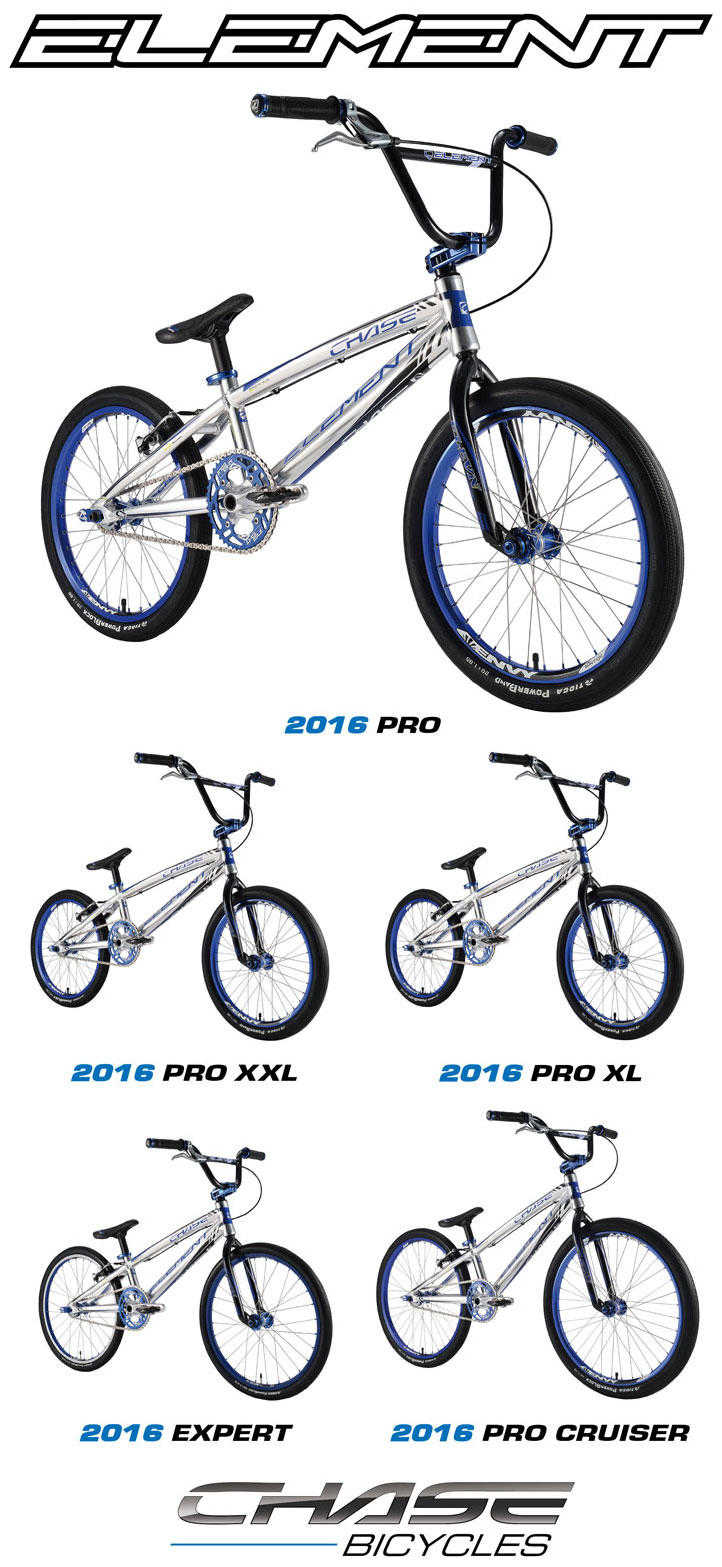 We are excited and proud to show you the line of new bikes from Chase Bicycles.

From our race team, to our dedicated staff of employees world wide, we are sure you will agree that the 2016 Chase BMX Bikes are the best bike in BMX racing today!

From Christophe Leveque and myself, Pete Dylewski, thanks so much for going on this ride with us!
---