---
BMX Racing News - Wednesday/Thursday - March 4-5, 2015
---
BMX Mania Photo Of The Day!

Well, we haven't had a BMX Mania Photo Of The Day for quite some time and who better to kick that in to gear than, Chase BMX, superstar, Connor Fields.

Pictured here, we see Connor taking a fast time trial lap at last season's, UCI BMX Supercross World Cup in Papendal, The Netherlands.

Connor epitomizes the style, power and just plain ol SPEED that makes BMX SX one of the coolest sports in the world! With it's 8 meter/26 foot high starting hill, MASSIVE jumps, unreal tracks, lightning race speed and larger than life, Elite Men & Women's racing stars it continues to unfold as the future of BMX racing ..... All of the above leading to the lure of Olympic Gold every four seasons!

The UCI BMX SX series kicks off again April 18 in Manchester, U.K. and this season, we see a new SX BMX national series launched by USABMX that will crank it up March 21 at the new world class BMX SX facility in Rock Hill, South Carolina USA.

You know that Connor Fields and all his fast friends will be there, will you?

BMXmania.com will be!
---

BMX Racing News - Monday - March 2, 2015
---
Awesome, new Whitney Mesa BMX Track Opens In Henderson, Nevada!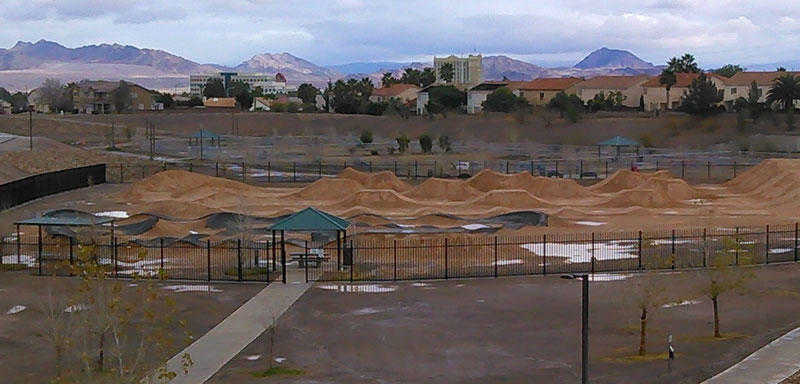 There's a brand new track that has opened up in Henderson, NV just east of Las Vegas which includes a pump track and a separate strider track.

Whitney Mesa BMX, which was a municipality build through the City of Henderson.

The track currently races on Mondays and Saturdays with practices on Tuesday and Thursday night and Saturday afternoons.

This is a world class facility that promises to grow in popularity and continue to make improvements as a BMX training ground.

The City of Henderson also built a dirt jump park with an asphalt pump track for the BMX community at a separate location, Arroyo Grande Sports Complex.

So for all of you riders that find yourself in Southern Nevada, please come and check out our newest facilities!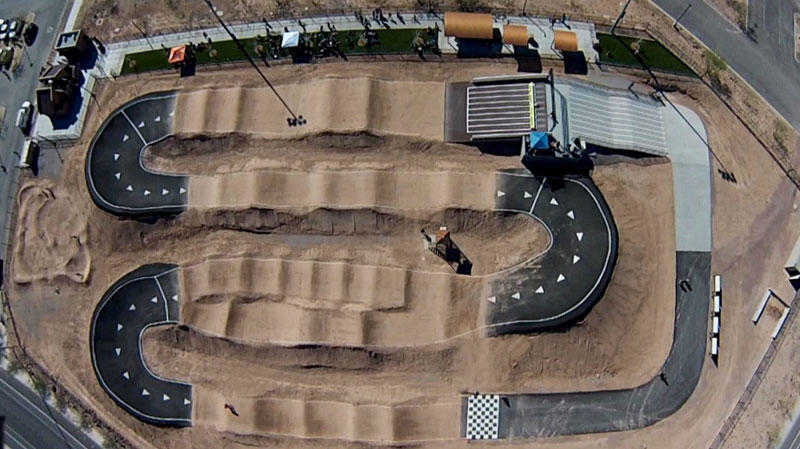 Look for us on Facebook and Instagram.
---

BMX Racing News - Thursday - February 26, 2015

---

World Champion and Olympian Sam Willoughby Joins the Lizard Skins Team!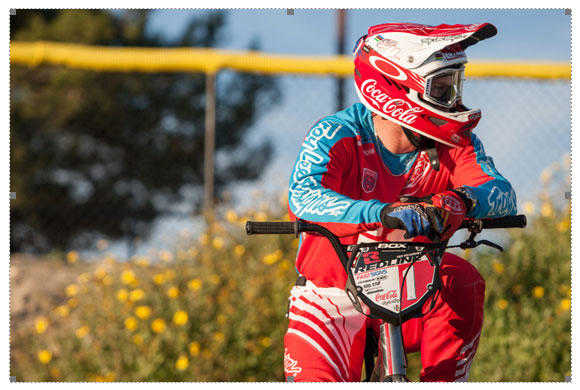 With our roots in BMX racing we couldn't be happier to announce the next chapter of Lizard Skins BMX by signing World Champion and BMX Olympian Sam Willoughby. We're excited to work with Sam to elevate our BMX presence and product range.
"I am very excited to have my name associated with such a long lasting and solid company in the bike industry like Lizard Skins. The product is top notch I plan to assist in keeping their grip at the forefront of BMX racing." - Sam Willoughby
SAM'S CAREER HIGHLIGHTS:
2014· UCI elite men's World Champion

2013· Nora Cup racer of the year
· USABMX national #1 Pro
· Winner of 17 pro races to date USABMX national series
· Winner of Chula Vista World Cup round 4

2012· Olympic Silver medalist
· elite men's world champion
· USABMX national #1 Pro
· elite men's World Cup champion
· NORA Cup racer of the year

2011· Australian National Champion
· 2nd over all AA pro USABMX series

2010· ABA BMX national number 1 pro

2009· junior elite world champion
· elite men's World Cup champion

2008 · junior elite World champion
---

BMX Racing News - Monday - February 23, 2015
---
2015 USA BMX Pro Series Season Opener And Connor Fields kicks off the season with a win!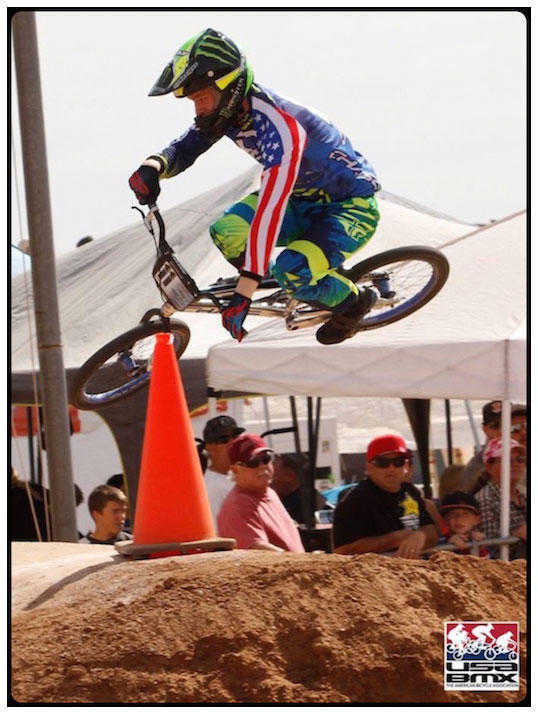 Phoenix, Arizona is one of the premiere USA BMX tracks on the race schedule and it was a fitting location for the first stop of the 2015 USA BMX Pro Series tour. What more can you ask for in a BMX weekend: A beautifully groomed outdoor track, picture perfect weather, and a great crowd of some of the best BMX fans on hand to watch the best Pros race head to head, is an excellent way to start off the season.

Chase BMX Factory Pro team riders Connor Fields and Joris Daudet were looking forward to the season opener, after their great performance at last season USA BMX Grand Nationals.

Both riders have had a great off season training program and were ready for the season opener. 53 Elite men were signed up to race the new USA BMX race format, with the 1st National event for the Pros on Friday night and the 2nd on Saturday. With Pro racing under the lights, it was time for the season to kick off and kick it up a notch.

Here is how Connor and Joris finished up: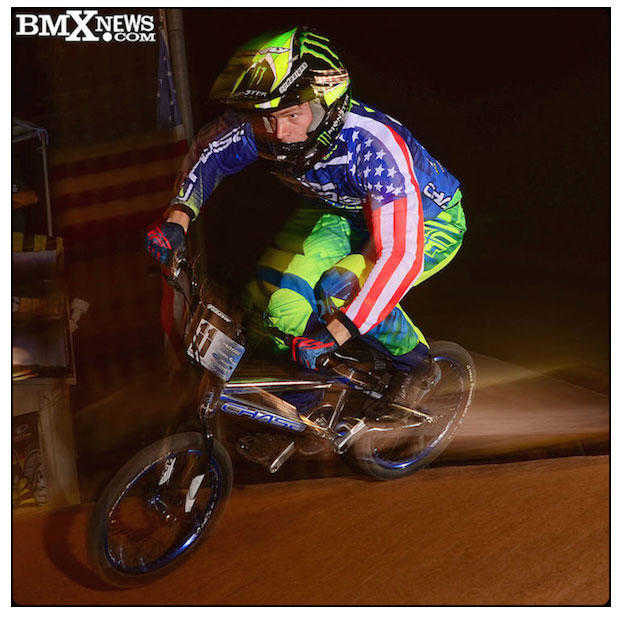 Connor Fields has had a strong off season training regimen and Phoenix was a direct result of his continued effort of striving for excellence on the BMX track.

On Friday, Connor rode perfect on the track, with taking wins in each and every one of the laps he did, all the way up to the main event. When the gate dropped for the main, Connor carried on with his winning ways, took the lead and never looked back, taking the first main event win of 2015 on the USA BMX tour.

On Saturday, Connor once again rode strong all day, but a bump down the first straight-away in the main event would keep him from being on the podium in day 2, where he would finish up 7th overall.

What a great way to kick off the 2015 USA BMX season and Connor will now put his focus to retaining his USA Cycling Elite National Championship, as that is the next event up for the Pro riders, along with the Rock Hill National at the end of March.
Joris Daudet was riding well all day on Friday, but was just edged out of the main event on the night program.
On Saturday, he was not to be denied, as he once again rode smart and strong throughout the day and made his way into the main event.
Joris and Connor were next to each other on the gate, and as fate would have it, they were forced into each other, by another rider, and it took the chance of a 1-2 Chase BMX finish away.
Joris would salvage a 5th for the night, but cap off a good weekend of racing in the main event.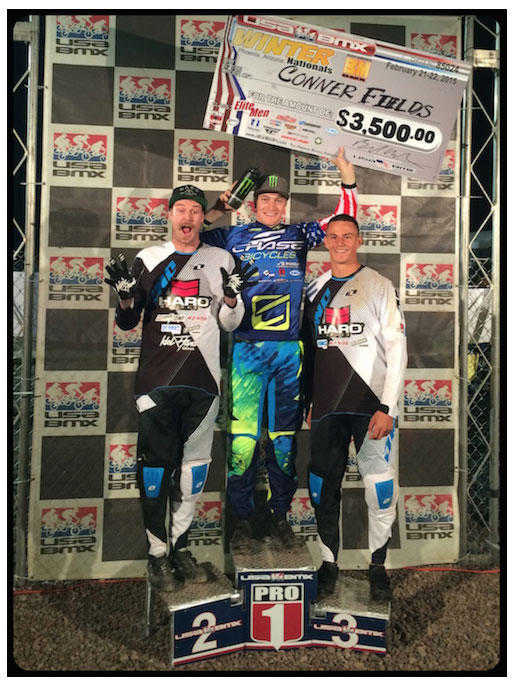 The riders now have a few weeks off before the 2nd stop of the USA BMX Pro Series, as well as the USA Cycling National Championship race on the Supercross track at the great Rock Hill BMX Facility in South Carolina on March 20-22. For more info on the event, visit the USA BMX website.
Thanks to all of the great sponsors of the Chase Bicycles Pro team : Shimano, Tioga, Fly Racing, Kicker, ODI, G-Form, KMC, Vans, Stealth, Elevn, Excess, Insight, Kingstar, and Thomson.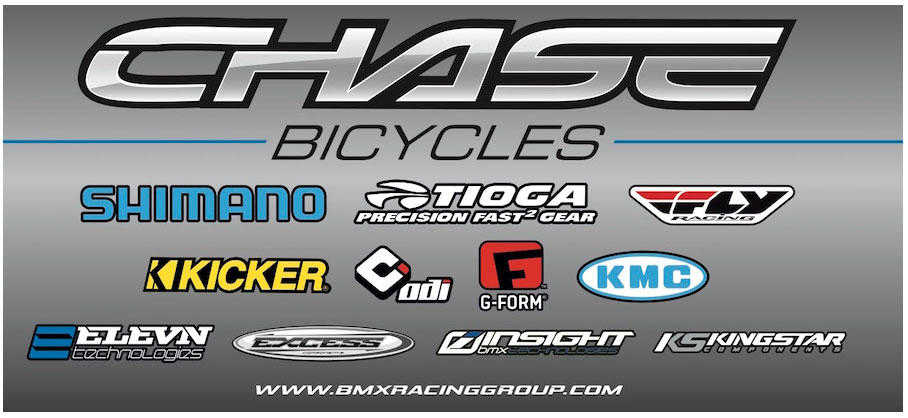 Thanks to USA BMX and BMX News for the photos: For more info on Chase Bicycles, please visit www.BMXracingGroup.com
---
BMX Racing News - friday - February 20, 2015
---
Caroline Buchanan, Harley Davidson Ambassador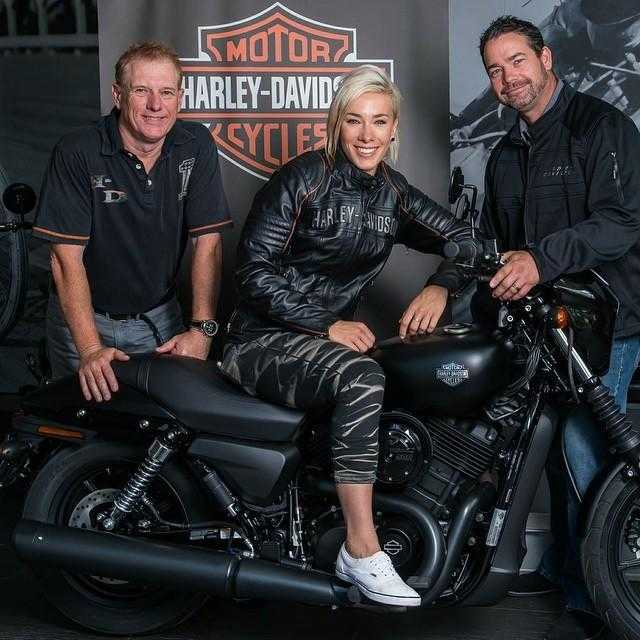 I'm honored to announce that I am the newest Harley Davidson Australia ambassador.
This partnership, riding Harley's newest edition learner legal Street 500 motorbike is an exciting time taking my love for riding 2 wheels from the dirt onto the great open road.
Harley-Davidson is celebrating the launch of Street 500 tomorrow, with dealerships across the country hosting a one-off special 'Street Party'.
All events are free to attend for the public and are calling upon local riders and enthusiasts to come along and experience the Street 500 firsthand.
---
Crupi.....Racing BMX Since 1982!
---
Look out for 'Haz"!
Hey, I'm Haz, and 2015 is my first year in Elite Women and I'm raising funds and awareness for my entrance in to the UCI SX Series.

Check out my intro video that'll help for The Fans out there to see what I can do and what I love! ..... Haz / www.haz.bike
---

BMX Racing News - Weekend Update - February 13-15, 2015
---
BMX Around The World from YESSBMX
Yess BMX, makin' waves around the world of BMX!
---
BMX Racing News - Tuesday - February 10, 2015

---
Promax Releases Pro-Level BMX Race Hubset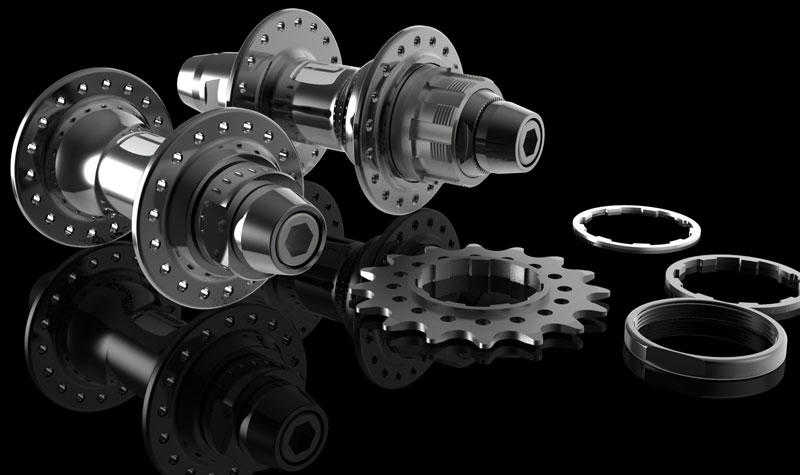 ANAHEIM, CA—Promax, the makers of high-quality bicycle components, now offers a professional-level cassette BMX hubset. Called HB-1P, the hubs are designed to meet the rigorous needs of BMX racing, but with a price of $299.99 they are more affordable than comparable hubs on the market.

HB-1P hub shells are cold forged from 6061-T6-aluminum alloy ensuring the maximum strength-to-weight-ratio. They come equipped with a wide Shimano-compatible cassette body for easy chainline adjustments. The cassette has 120 points of engagement for fast and precise forward drive. Available in black with laser-etched logos and 36 spoke holes, each hubset includes front and rear hubs with chromoly 10-mil (3/8") male/female axles, 16T cog, 10-mil cog spacer and lock-ring.

The complete hubset including cog, spacer and lock-ring weighs 782 grams/27.8 ounces per pair. The hubs complete the Promax line of BMX race hubs. Promax also sell a mini hub called HB-1M, which is available in a 24-hole model in black and a 28-hole model in anodized red, blue, gold and black. HB-1P hubs will be widely available in February with a suggested retail price of $299.99

Front hub: 290 gr/10.2 oz. - Rear hub: 438 gr/15.45 oz.

About Cycle Group, Inc.: CGI designs, manufactures and distributes BMX, mountain bike and road bicycle components under the BOX Components and Promax brand names. Its founder, Toby Henderson, is a BMX racing pioneer, member of the BMX Hall of Fame, U.S. Bicycle Hall of Fame, X-Games medalist, founder of T.H.E. Industries and co-founder of VSI Products.
---
BMX Racing News - Thursday/friday - February 5/6, 2015

---
BMX Mania Team Member, Shannon Taylor Signs To Ride For Marian University!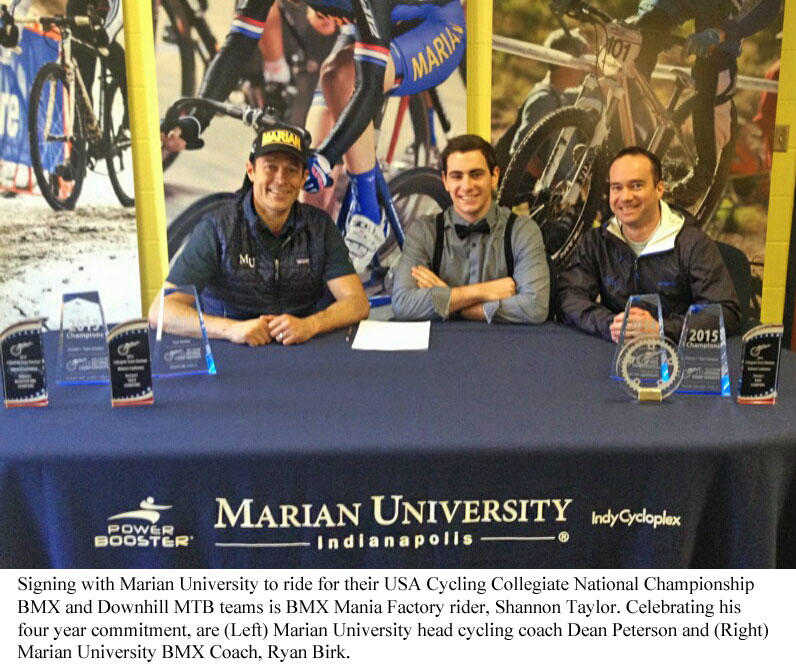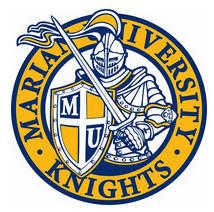 INDIANAPOLIS - Marian University head cycling coach Dean Peterson is proud to announce the commitment of Shannon Taylor for the 2015-16 season of MU cycling.

Taylor will bring 12 years of BMX racing experience to the two-time defending collegiate BMX national champions and will also compete as a gravity mountain bike rider for the Knights.

"Shannon is a very bright student who has worked hard both in the classroom and on the bike," said Peterson. "We expect he will develop nicely in our program over the next four years."

Set to graduate from Warsaw Community High School, Taylor intends to study chemistry and exercise science. He currently holds the top BMX ranking for 17-18 men in the state of Indiana in his first year racing that category. He races for the BMX Mania/Dan's Comp squad and outside of racing, enjoys fishing and motocross, as well as volunteering at a local animal shelter.

According to BMX Mania Team Owner, Jerry Landrum, "I am SO excited for Shannon, with this commitment to attend and ride for Marian University. Shannon has pretty much been my team for the past several years and has grown tremendously each year......Riding for the most successful Collegiate Cycling Program in the country can only expand his BMX horizons, I couldn't be happier for him! Hats off to Coach, Ryan Birk and the cycling Marian Knights, you've got a winner on wheels!"
The BMX Mania Factory Team is powered by ALIENATION BMX, DANS COMP, FLY RACING, HOT SHOPPE DESIGNS, HRP DESIGNS, REDLINE BICYCLES, and TIOGA BMX.
---
BMX Racing News - Tuesday/Wednesday - February 3/4, 2015
BMX Mania Team Picks Up The Robinsons!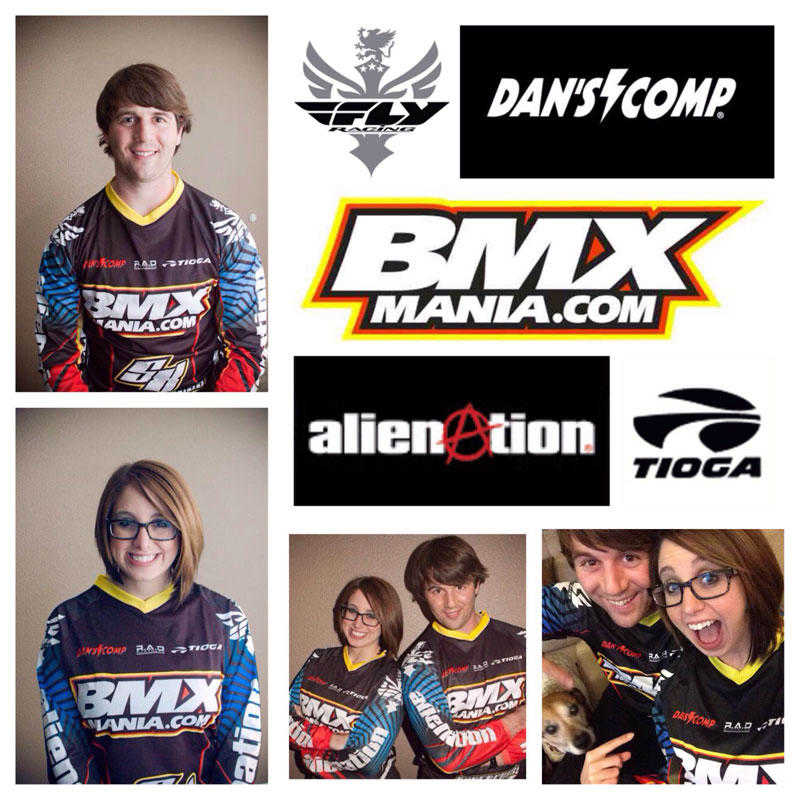 BMXmania.com Web Dude, Jerry Landrum is proud to announce the signing of Kyle & Krystal Robinson to the BMX Mania Factory Team, debuting this weekend at the USABMX BLUEGRASS NATIONALS, held at Freedom Hall in Louisville, Kentucky.

Kyle or Krystal are seasoned performers on the BMX track and are hard chargers in their respective classes. The Robinsons hail from Pendleton, Indiana and met as BMXers and raced throughout their pre-marriage years......A real BMX family.

According to Jerry Mania, "I'm VERY excited about having Krystal and Kyle join our team. They are hard core BMX racers and have a real love for the sport, which is the main criteria for team membership as far as I'm concerned. I welcome them to the team and look forward to a great 2015 BMX Racing Season for them!"

2014 Accomplishments/Krystal: 6th Place National Age Group Ranking in the 26-30 Women's Class ..... 5th Place National Age Group Ranking in the 26-30 Women's Cruiser Class ..... 3rd place Cruiser Main Event Finish at the Grand National ..... 4th place 20" Main Event Finish at the Grand National

2014 Accomplishments/Kyle: 2014 National Age Group (NAG) Series Champion – 26-30 Men's Cruiser ..... 2014 Eastern Division Champion, 26-30 Men's Cruiser ..... "Perfect" Weekend at the Great Lakes National ..... Taught multiple clinics at Indy Action BMX ..... Warsaw BMX Pro-Am Winner, August 2014.

Kyle Race Finishes in 2014 ..... Music City Nationals 1st & 2nd ..... Midwest Nationals 2nd & 1st ..... Stars and Stripes National 2nd & 2nd ..... Great Lakes National 1st & 1st ..... Derby City Nationals/Eastern Division Finals 2nd & 1st ..... Eastern Division Champion 1st Overall ..... Grand National Finish 1st
---
BMX Racing News - Monday - February 2, 2015
THIS HAS GOT NOTHING TO DO WITH BMX!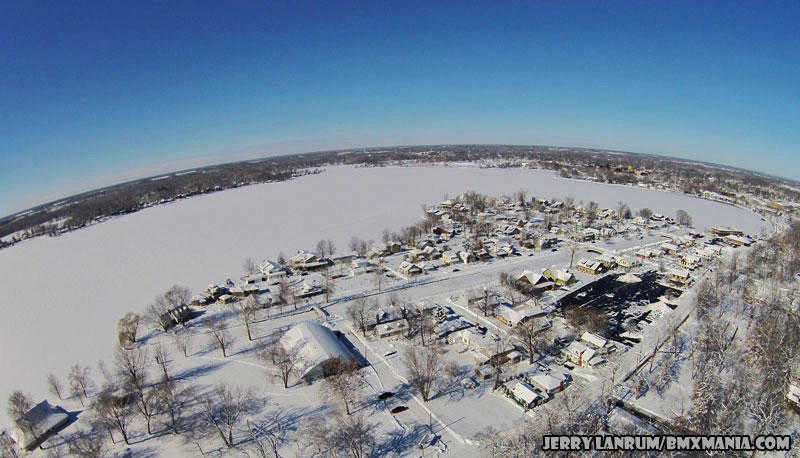 Nope, no BMX going on in this shot, but we did get a bunch of snow this past weekend at BMX Mania World HQ in the beautiful Northern Indiana Lakes Area.

About a foot of snow blanketed the landscape and since Jerry Mania got a Quad Copter with a high resolution camera on it for Christmas, I had to get a little aerial joy of the surrounding countryside. Here's a shot of the snow covered downtown of the little Village By The Lake (www.villageatwinona.com) that we call home.

OK, nuff said.......gotta go dust of the snow blower and get to work!

Big BMX Mania Team News Coming, Tuesday!!!!! Well.....Big news from a small team! :-)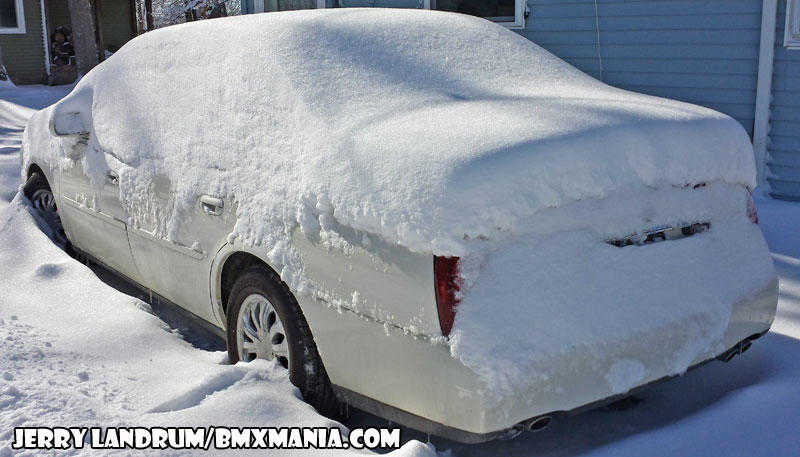 The BMX Mania Mobile, at rest under a fluffy blanket of snow!
---
BUCHANAN NEXT GEN GIRLS BMX TEAM.....big plans ready for 2015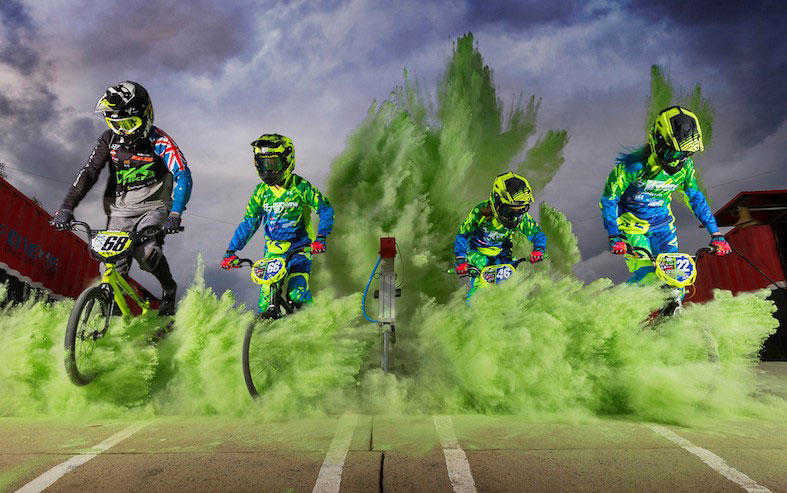 1st February, 2015 - In a global first, Caroline Buchanan, the current world number one BMX rider created a young women's team.

The Buchanan Next Gen team currently consists of three Australian BMX riders. Mikayla Rose (ACT) is the eldest at 14 has her sights set on the 2020 Tokyo Olympics.

From western Sydney (NSW) is Paige Harding at just 11 years of age. Harding claimed fifth place at the 2014 UCI World Championships and aims to improve on that this year in Belgium in July.

The youngest and newest member to the team is 8 yr old Tayla Robertson from Shepparton (VIC). Robertson is a current national champion in her age group and is aiming for a podium at this year's world championship.

The Next Gen team will all head to the upcoming UCI BMX World Championships in Belgium in July. Last year team members Rose and Harding each finished in the top 10.

The Buchanan Next Gen team initiative is mentored by two time BMX World Champion and current winner of the BMX World Cup series. Buchanan also has three Mountain Bike World titles. Buchanan is aiming to compete in the Rio de Janeiro Olympics in 2016.

New sponsors supporting the program, Jayco and On The Go have made it possible to expand the team and continue the initiative.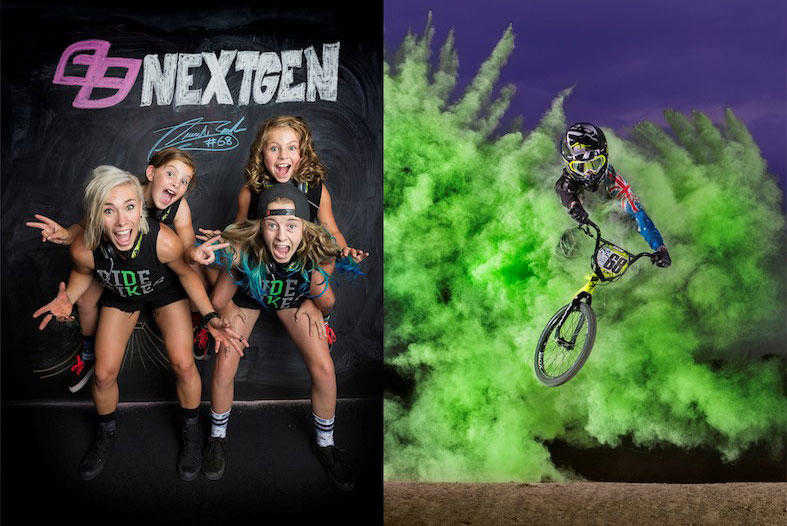 CHECK OUT THE RAD VIDEO FROM CAROLINE & THE NEXT GEN TEAM!
---
BMX Racing News - Thursday/Friday - January 29-30, 2015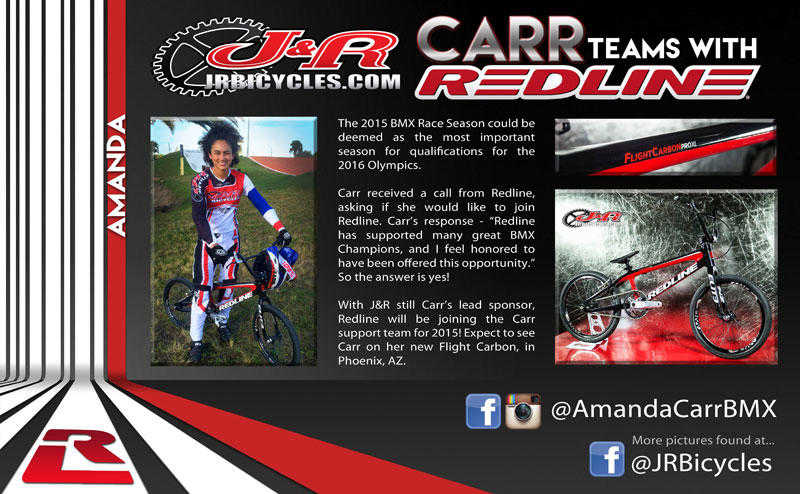 World Wide Elite Woman's, BMX Superstar, Amanda Carr has picked up a hot hook up with Redline Bicycles. With Redline and Amanda's lead sponsor, J&R Bicycles behind her, Amanda will be making a strong run at the 2016 Olympic BMX event for Team Thailand. Congrats, Amanda Carr, Redline and J&R.......What a team!
---
BMX Racing News - Monday/Tuesday - January 26-27, 2015
Charlotte BMX To Host USABMX National In Beautiful, Sunny Florida!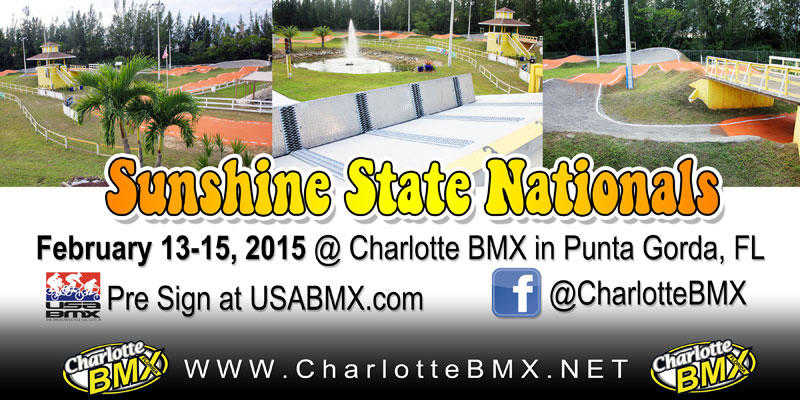 There's a big USABMX National coming up in a couple weeks at Charlotte BMX in Punta Gorda, Florida. Jerry Mania sez that Charlotte BMX is one of the prettiest BMX tracks that I've ever been at.

Charlotte BMX is Perfectly landscaped, has a unique track layout, resides in an area with regular BEAUTIFUL weather and has a well drilled group of track workers that ought to be bringin' a GREAT vibe to the USABMX Sunshine State Nationals!

Track Director, Amanda Carr will be workin' hard in conjunction with the USABMX National staff and it'll be a race you will NOT want to miss!

The Big Race will be coming up February 13-15, so go to get all of the stats n facts and get started making you plans to attend one of the coolest races of the year!
For more info check things out at
This race is BMX Mania Approved! - Jerry Mania
---
BMX Racing News - weekend update - January 23-25, 2015
USA Cycling announces changes to 2015 BMX Devo Program, rider qualifications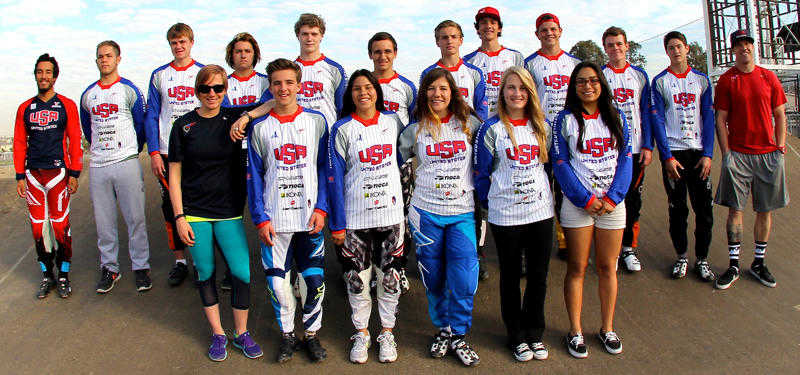 (Jan. 21, 2015) – USA Cycling announced Wednesday various changes to the 2015 BMX Development (Devo) Program, including rider camp qualifications.
Devo - There will be no more "Junior Devo" races at USA BMX Nationals; instead, riders will now qualify through their regular 15 and 16-year-old expert and girls' classes on Saturday and Sunday events only. Each of the four camps will have a qualifying window of USA BMX races. To see which races qualify for which camps go to http://www.usacycling.org/usa-cycling-bmx-development-series.htm.
USA Cycling will invite the top three boys from each of the 15 expert and 16 expert classes (six total) and top two girls from the 15-16 girls class. Points will be calculated by USA BMX using the standard national points system listed in the 2015 rule book, including groups for rider count. A rider's best four scores in the series count toward camp qualification. Once USA Cycling has received the official points from USA BMX, invites to the camp will be sent out as soon as possible. Invites are sent via email, so it is important that each rider maintains a current email address/account with USA Cycling.
New for 2015 is the opportunity for age eligible riders (1999-2000) to submit video and race resumes to bmxdevo@usacycling.org to be selected for discretionary spots. All remaining Devo camp spots will be filled through talent identification by USA Cycling coaches.
Devo+ - Devo+ will continue to provide opportunities at camps for boys and girls that have either aged out of Devo or have shown exemplary performance markers at prior camps and are trending towards Evo caliber. Camp invites for Devo + will be at the sole discretion of USA Cycling coaches.
Evo - Also new for 2015 are designated spots at camps for Evolution (Evo) caliber riders. USA Cycling wants to provide as many opportunities as possible to help facilitate the transition from Devo+ athlete to Elite athlete, thus these spots are reserved for the top tier of our development talent.
The Evo spots at camps are designed to provide more time and coaching on SX tracks to keep developing riders engaged and working toward becoming a high performance Elite racer. This model also allows for Devo and Devo+ riders to train and race alongside Evo riders that have previously been through the same program and who can also serve as role models to the younger riders. Camp invites for Evo will be at the sole discretion of USA Cycling coaches.
2015 Camp Dates ..... April 26-May 3 ..... June 7-15 ..... August 16-23 ..... October 18-25
Detailed information can be found at
http://www.usacycling.org/usa-cycling-bmx-development-series.htm
. For further information or questions please contact
bmxdevo@usacycling.org
---
BMX Racing News - Wednesday - January 21, 2015
Ramiro Marino Signs With Crupi Factory!
Baldwin Park, CA: Crupi is proud to announce the signing of Elite Pro Ramiro Marino of Argentina.
At just 26 years of age, Ramiro has a long winning history in BMX which he will now showcase in the USA where he now lives.
Ramiro represented his nation Argentina, as a 19-year-old junior, at the 2008 Summer Olympics, is a 4 time World Champion, 5 time Argentinean Champion, 2 time USA Champion, 2 time Oceania Champion, Elite Latin American Champion and Elite Pan American Champion.
After a 2-year hiatus, Ramiro is back and stronger than ever with his sights on making some noise here in the USA as he focuses toward the 2016 Summer Olympics in Rio.
We look forward to Ramiro's influence on our younger team riders as well as seeing Crupi back on the podium in Elite level racing! Welcome to the team Ramiro!!
---
BMX Racing News - WEEKEND UPDATE - January 9-11, 2015
sUPERCROSS BMX ANNOUNCES 2015 Factory TEAM PRO RIDERS
| | |
| --- | --- |
| | |
| Rachel Mydock/Elite Women | Kalvin Davis/A Pro |
Supercross BMX is happy to announce the addition of 2 Pros to our 2015 roster. They are none other than our own former amateur riders and Supercross family members, Kalvin Davis and Rachel Mydock.
After their outstanding performances at the 2014 USA BMX Grand Nationals, they both have decided to take on a new challenge in their own racing careers and we are more than happy to support them!
Team manager Kim Hayashi stated, "I couldn't be more excited and proud to watch two of my former teammates make the jump to pro. I've had the privilege to watch them grow as athletes over the past few years and both Rachel and Kalvin are excellent riders as well as being amazing role models. I have no doubt that they will be making big waves in the pro class so keep your eye out on these two! Congratulations to our newest Elite Women, Rachel Mydock and our new A-pro, Kalvin Davis!"
Supercross BMX, Owner, Bill Ryan was overly excited to hear the news about Rachel and had this to say, "Rachel has been on a tear in the 17/20 girls class this year, and after picking up the NAG 1 spot for 2014, I am glad she decided to take the opportunity to fill the Women's Elite spot we had been saving for her. It is going to be a great to watch her start the new chapter of her career."
After making the announcement Rachel was asked about her jump to pro, "2015 is going to be a new chapter for me but I couldn't be more excited! Racing against some of the fastest girls in the world is going to be challenging but I can't wait to line up with them at the Winter Nationals in February. I couldn't be happier with the support I have around me and I believe I have all the tools necessary to battle with the best in the world!"
When asked about Kalvin's decision to pro owner Bill Ryan said, "Kalvin has had a plan, we spoke about it years ago that when he graduated college, he would turn pro. Well with him graduating last May, we knew that after Grands he was going to be ready to go A Pro and fill the A Pro spot that Jeremy left open after turning up to Elite. Kalvin has been a part of the Supercross Family for many years starting out on the 505 Racing / Supercross Team and then jumping into the Factory Supercross colors. We are super excited to see the Mighty Duck take the A Pro class by storm!!!"
Kalvin was so excited about his move to pro he had this to say, "I just love BMX, I love riding my bike. I am turning pro this year in search of that next level of fun on my bike. After racing for years as a top amateur and recently as UCI World Cup challenge rider, stepping up to the pro circuit is the next step. I can't wait to get up there and get nervous behind the gate in Vegas! See you there. And make sure to follow my adventures this year on Instagram."
Make sure to follow Rachel (@rachelmydock) and Kalvin (@kalvin_withak) on Instagram to track their progress in their first season on the USA BMX pro circuit.
For more information on the entire Supercross BMX Factory Team please visit our website HERE.
And we would like to thank our Supercross BMX Factory Team Co-sponsors; Fly Racing, Maxxis Tires, ODI Grips, Sun Ringle Rims, Wheelsmith Spokes, Speedline Parts, Stealth Hubs and Stasis Plates and Graphics for their ongoing support in making sure that our all of our family is kept running on the track with the best components and gear available.
---
Win A Free 2015 Turbo Bike Co. Frame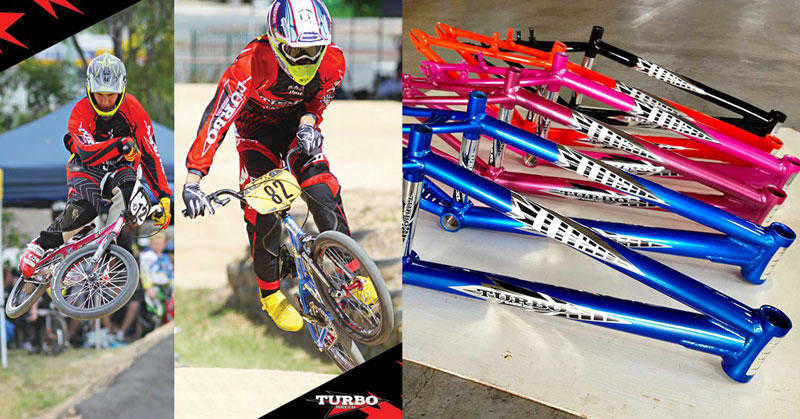 Win A Free 2015 Turbo Bike Co. Frame.
Turbo Bikes in conjunction with The Black Market Shop (www.littleblackmarketshop.com) will be giving away a brand new Turbo Bike Co Frame,
Including free delivery to anywhere in the World. You will get to choose from any color and size Turbo Bikes frame we have in stock.
All you have to do is go to www.littleblackmarketshop.com and register your email address to receive our newsletters (this is located on the front page at the bottom), and not only will you go in the draw for a Turbo Bike frame,
But all registered email address go into the draw for all our future monthly competitions and give-aways.
The winner will be drawn on 31 January 2015.
---
BMX Racing News - Wednesday - January 7, 2015
Dutch National Team, California Training Camp video from Raymon van der Biezen!
Looks like the Dutch National Team has been hittin' up some warm climate this Winter in sunny California. Check out some of what the team of Raymon van der Biezen, Jelle van Gorkom, Twan van Gendt, Merle van Benthem, Niek Kimmann, Mark Link & Coach, Bas de Bever have been up to. Good vibes, good temps and some awesome BMX.
---
BMX Racing News - Weekend update - January 2-5, 2015
SSA Florida Cup State Qualifier Sunday!
Pro Men
Pro Women
1 Tanner Sebesta 2 Tyler Faoro 3 Justin Riddell
1 Amanda Geving 2 Ashley Kneram 3 Kyla Reed

Check out the SSA FLORIDA CUP RACE REPORT PAGE for hundreds of White Hot BMX Race Pix from Charlotte BMX, Punta Gorda, Florida!!!!!
---
SSA Florida Cup State Qualifier Saturday!
Pro Men
Pro Women
1-Tanner SebEsta 2-Will Grant 3-Justin Riddel
1-AMANDA GEVING 2-ASHLEY KNERAM 3-DANIELLE LANQUETTE
Check out the SSA FLORIDA CUP RACE REPORT PAGE for hundreds of White Hot BMX Race Pix from Charlotte BMX, Punta Gorda, Florida!!!!!
---
BMX Mania Is "On The Road" This
Weekend To The Sunshine State For An
SSA Florida Cup State Qualifier!

Hidden away in "The Book of BMX Legends" is a State Series where the Winter weather is warm, there's a big pro turnout and the moto count rivals many regular season nationals.

I'll admit it, attending a 'Sunshine State Association' state race has been on my "Must Attend" list for a long time and 2015 is the time.....time to head to the USABMX Charlotte BMX Track in Port Charlotte, Florida.

Friday it's time for some practice and then a two race weekend starting Saturday morning. We've been promised by Track Operator, Amanda Carr (Team Thailand/Olympic Contender) that the racing action will be fast and furious as the best from Florida and many from the east coast will be in attendance, ready to rock n roll with some heavy duty 2015 BMX!

Check in Saturday for Red Hot BMX Race Action Photos and some great BMX racing from the SSA Florida Cup State Qualifier at the USABMX Charlotte BMX Track in Port Charlotte, Florida!
---
Steel Wheels

(Portage, Indiana)

Pro/Am, Goes HOT With Fast BMX!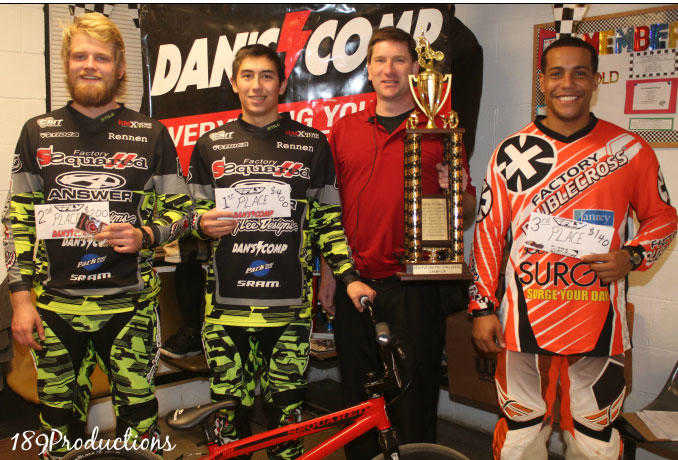 30 total riders ..... 1st Tyler Whitfield(Answer Ssquared) / 2nd Brandon Ceslok(Answer Ssquared) / 3rd Olijuwon Davis(Doublecross) / 4th Eric Meyer(Answer Rennen) / 5th Richard Maldonado(CCH) / 6th Shannon Taylor(Alienation DANS COMP BMXmania) / 7th Nicholas Tanzymore(Pit Stop) / 8th Josef Gerhartz(Star Products)
Photo Gallery by 189 Productions / Kim Parkinson
---
Redline parts ways
with Tory Nyhaug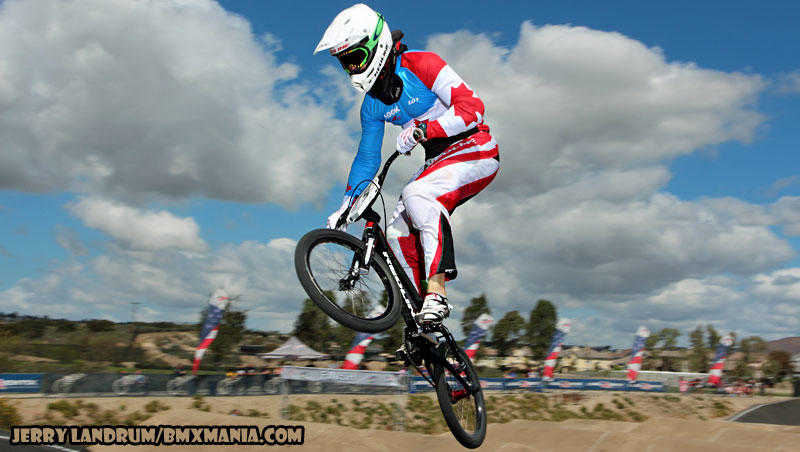 From Tory, his-self! ..... "After 7 successful years together, Redline and I have parted ways.
I'm proud to have raced for such a great team and although this is an unexpected change, I'm looking forward to new opportunities and racing this year, especially with the Pan-Am Games and Olympics around the corner.
I would like to thank my teammates and everyone at Redline for the support they have given me, especially Team Manager and friend Jason Carnes.
See you at the races!" ..... Tory Nyhaug
---
---