---
BMX Racing News - Friday - May 22, 2015
---
---
BMX Racing News - Monday/Tuesday - May 18-19
---
---
BMX Racing News - Friday/Saturday - May 15-16
---
---
---
---
BMX Racing News - weekend update - May 8/10, 2015

BMX Racing News - Thursday - April 30, 2015

---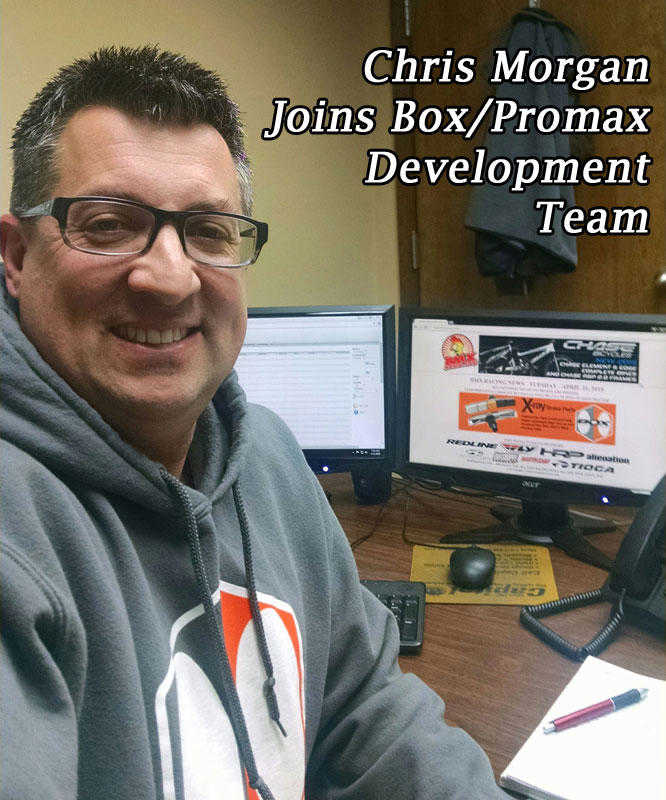 There is a different specialty for product design and product development.
In the beginning at BOX/ Promax we had assembled a (what we think) awesome design team.
But as we grow the design team is a bit green to development or at least how to be efficient at it.
Hence we have joined forces with Chris Morgan to help us push the development window with our vendors.
Chris has an array of knowledge in product sourcing and material selections.
In his previous life he had to source products from all over the world, assemble those products and deliver on time to an array of customers.
These items were as simple as a paper clip to a large scale precision cutting tools.
A bit about Chris here: Chris started racing BMX at age 10 in 1981 and raced amateur until turning pro in 1988.
Remained in sport after retiring from racing in 1992 and went into advertising and worked with one of Ohio's largest publishing companies.
Work as a manufacturing product manager for one of North America's largest machine knife manufacturers.
Founded MotoUp Racewear in 2012 where he worked in motocross and BMX markets and has worked until beginning work this past month at BOX/ Promax.
BOX/ Promax and Chris look forward to working together to bring more high quality and innovative product to the BMX racing market!
---
BMX Racing News - Wednesday - April 29, 2015

---
---

BMX Racing News - Sunday - April 26, 2015
---
---
---
BMX Racing News - Thursday - April 23, 2015
---
---
BMX Racing News - Tuesday - April 21, 2015
---
BMX Racing News - Weekend Update - April 18-19, 2015
---
---
BMX Racing News - Wednesday/Thursday - April 15/16, 2015
---
---
BMX Racing News - weekend update - April 11/12, 2015
---
BMX Racing News - Monday - April 6, 2015
---
---
BMX Racing News - Thursday/Friday - April 2/3, 2015
---
BMX Racing News - Monday/Tuesday - March 30-31, 2015
---
BMX Racing News - weekend update - March 27-29, 2015
---
BMX Racing News - Weekend Update - March 20-22, 2015
---
---
BMX Racing News - Monday/Tuesday - March 16-17, 2015
---
BMX Racing News - Thursday - March 12, 2015
---
BMX Racing News - Weekend update - March 6-8, 2015
---
BMX Racing News - Wednesday/Thursday - March 4-5, 2015
---
BMX Racing News - Monday - March 2, 2015
---
---